The finest Deruta ceramics
Deruta, a small Medieval town in Umbria, has been one of the most vibrant hubs of Italian ceramics since the Renaissance in the 15th century. Renowned worldwide, Deruta pottery is rigorously handmade, as tradition dictates. The artisans we have selected for our collections make the finest ceramics in town, using methods that have been handed down in their families from generation to generation.


Shop Deruta ceramics by category
Learn about Deruta ceramics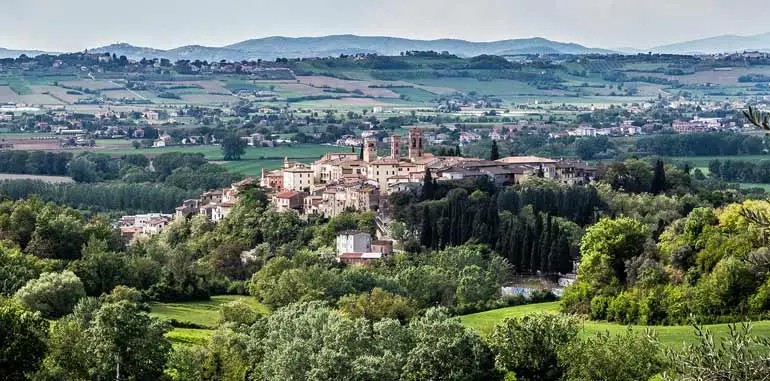 Situated in the Umbria region, Deruta was probably built upon Roman foundations on a hill overlooking the Tevere river valley. Its name reminds of the "ruin" of this strategic site caused by the Gothic War in the 6th century.
The excellent quality of the local clay is at the base of the start of the Deruta pottery tradition. The production started in the early Middle Ages and reached its artistic climax in the 15th and the early 16th century. The experience of long-lasting peace corresponded with the highest splendor in Deruta majolica production and its commercial expansion. Favorable geographical and political conditions concentrated in Deruta a wide variety of technical and artistic experiences that contributed to the production of uniquely creative and qualitative pieces.
Worth mentioning are the figurative decorations on Deruta ceramics, the usage of new colors (blue, yellow, and orange), and the lusterware, rich in golden, iridescent effects thanks to special glazes and a third firing. In the same period, the shapes also evolved, losing their functional qualities to become purely ornamental. Ceramics and paintings were considered equivalent in terms of artistic and decorative standing. Deruta's celebration plates (piatti da pompa), large footed bowls (coppe amatorie), and apothecary jars were fashionable gifts at aristocratic weddings or political meetings. Wealthy merchants collected Deruta pottery as a status symbol and proudly displayed them in their newly built homes.
At the time, fifty-two kilns were active inside the town walls. The potters' statute set the rules, and their corporation strictly enforced them to protect the local tradition and trade.
Deruta ceramics enjoyed 300 years of undisputed fame, always offering original contributions to the evolution of artistic tastes.
At the beginning of the 20th century, extensive research and training work stimulated the Deruta pottery-making tradition's revival. Since then, production has flourished, and Deruta has regained its place at the Italian craftsmanship center.
Nowadays, Deruta is a charming little town, with perfectly preserved old churches and buildings. Its Internationally renowned Museum of Ceramics is the ideal place to learn about the evolution of Deruta ceramics shapes, patterns, and techniques.
The production of pottery is still the main economic activity of the area. More than 200 laboratories and factories produce Deruta dinnerware and decorative ceramics in various traditional designs - such as Raffaellesco, Ricco Deruta, Arabesco, Geometrics - and modern patterns.