Handpainted Italian Tiles & Panels
How to use Italian tiles for unique interior design projects
For centuries, handpainted Italian tiles and lavishly handpainted panels have been used in Italy, especially in the Southern regions, to add character and relevance to architectural and decoration projects in public buildings and private homes, indoor and outdoor.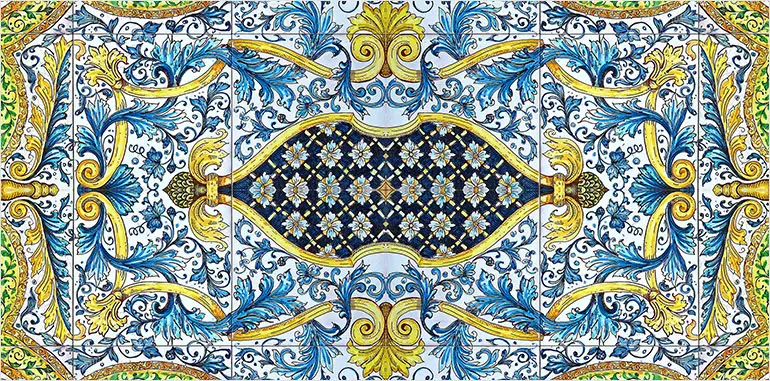 Lavishly tiled floors as well as antique wall panels and staircases… they have often survived wars, harsh weather conditions, and the wear and tear of many generations.
Still, their colors are vibrant and their sophisticated intricacy never ceases to amaze us.
Decorative tiles for your interior decoration projects
Today only a few Italian craftsmen still decorate ceramic tiles and panels using traditional methods. We are really proud to represent their wonderful work, so very unique and different: we carry only original designs and each piece is entirely handpainted, without any easy shortcut such as stencils or transfers.
Kitchen backsplash tiles & panels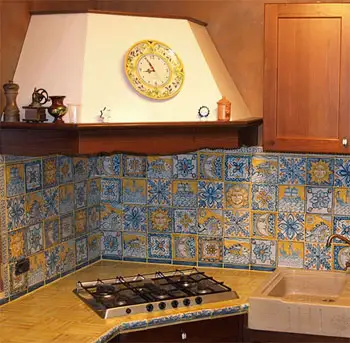 A handpainted kitchen backsplash is much like fine jewelry: its marvelous workmanship pulls together a kitchen that would have been humdrum without it. It defines your kitchen through adornment, much like a lady wearing a beautiful diamond necklace would stand out from the crowd.

Traditional or modern, simply designed or sumptuously intricate, our tile murals can create kitchen beauty in a range of styles, allowing you to put your personal stamp on your decoration project.

As every kitchen decoration project is unique, most of our Customers request a made-to-measure backsplash, stovetop (AGA panel). We work with different kinds of tiles and tile sizes and the artists are always available to resize their designs or work on bespoke projects.

Send us a plan of your backsplash area, some info on the designs you love and we'll be happy to work for you on a creation of timeless beauty and superlative craftsmanship.
Tile murals, panels and tabletops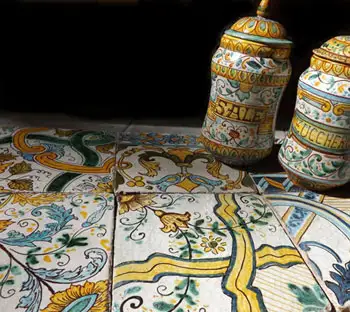 Inlaid or framed like a painting, a tile mural is a lovely wall decoration both indoor or outdoor. Don't be afraid to decorate your patio or garden bench with handmade tiles: they are resistant to frost and made to last a lifetime.
Most of our panels can be set on a solid wooden or wrought iron base to make a stunning indoor and outdoor dining or coffee table.

Have you ever heard of a tiled rug? It is a large floor panel set into hardwood or framed by plain tiles. Usually placed in front of the fireplace to protect wooden floors from the sparks, it is also used under a dining or a coffee table or to highlight a special area of the room, just like rugs. It was a popular piece of decoration in Southern Italy a few centuries ago and we find it a brilliant decorating idea.
Tiled floors, wall tiles and stair risers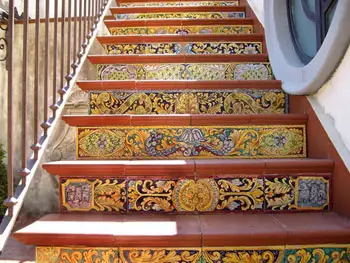 If you have visited the Southern regions of Italy, you have certainly noticed the wonderfully tiled floors that are habitual decorative elements of private and public buildings alike.

Tiles have also been used for centuries to decorate the steps of the stairways, both indoor and outdoor. Have a look at our collection of stair risers!
Bespoke and made to order projects
Bespoke and made-to-order projects are welcome: send us your sketches or a picture you'd like to turn into a handpainted plaque or a panel. We'll work together with our artists and reply with a free cost estimate.
We have a very special offer for Interior Decorators, Designers and Architectts. Contact us to learn more.
---
ABOUT OUR TILES AND PANELS: PRODUCT INFORMATION
All our tiles and panels are entirely hand-painted using traditional techniques and glazes. In our catalog, you'll not find anything made with decals or transfers.

Tiles for panels, murals and tabletops are numbered on the back and run from left to right, top to bottom. They can be a Do-It-Yourself project, although we recommend a professional tile setter. It is not mandatory to grout tiles, unless in a shower application. However, grouting will contribute to the uniformity of the surface.

More info on tiles, tile murals and floor panels can be found in the relevant product pages.

HOW TO CALCULATE THE NUMBER OF TILES YOU NEED
Follow these simple steps to calculate how many tiles you need for your project:
measure the length and width of the area that is to be tiled, then multiply the two figures to get the total area size: length*width
multiply the length by the width of a single tile to determine its area size. Remember to keep your units consistent (cm² or square inches)
divide the area of the surface that is to be tiled by the area of a single tile and add approx. 10% extra tiles to allow for wastage and accidental damage.