ANDRILIA
Deruta ceramics have a new star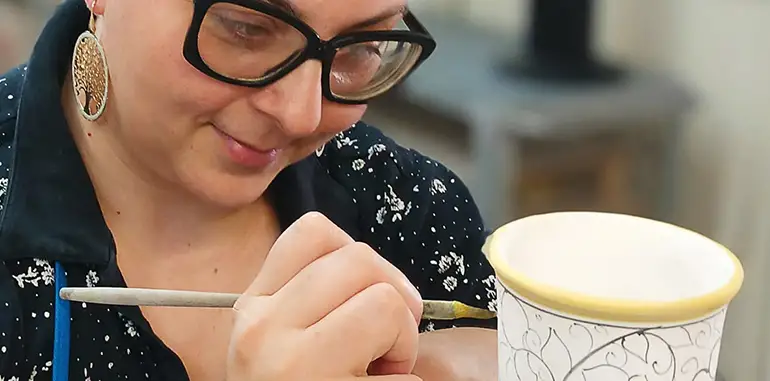 Marianna Mercante, aka Andrilia, is very much a rising star in Italian ceramics. Her distinctive voice brings diverse motifs and imagery into dialogue, effectively producing a body of work that is rooted in tradition and yet profoundly innovative.
We are proud to present a selection of Andrilia's most exciting tableware. Discover her signature Cecilia collection and her whimsical interpretations of traditional Deruta motifs, brimming with captivating, inspiring vitality.
The master of bold and whimsical tableware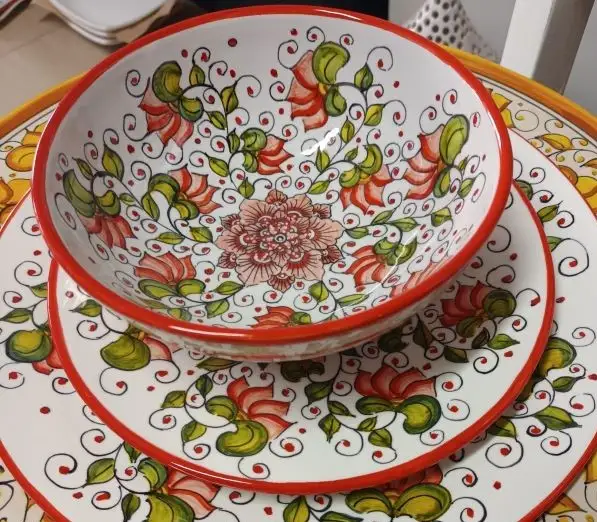 We have been friendly with Marianna Mercante for ten years and have seen her wings unfurl and her talents flourish.
This unique artist has established herself in the crowded world of Deruta ceramics thanks to her bold colors, energy, and intricate imagery.
Marianna's passions - ceramics, music, family and nature - fill the space she inhabits, one feeding into the other, all nurturing her work.
For her art, she has chosen the pseudonym Andrilia, a combination of Andrea and Cecilia, her two children. Now in their teens, they are often in her studio, brush in hand, making their own things.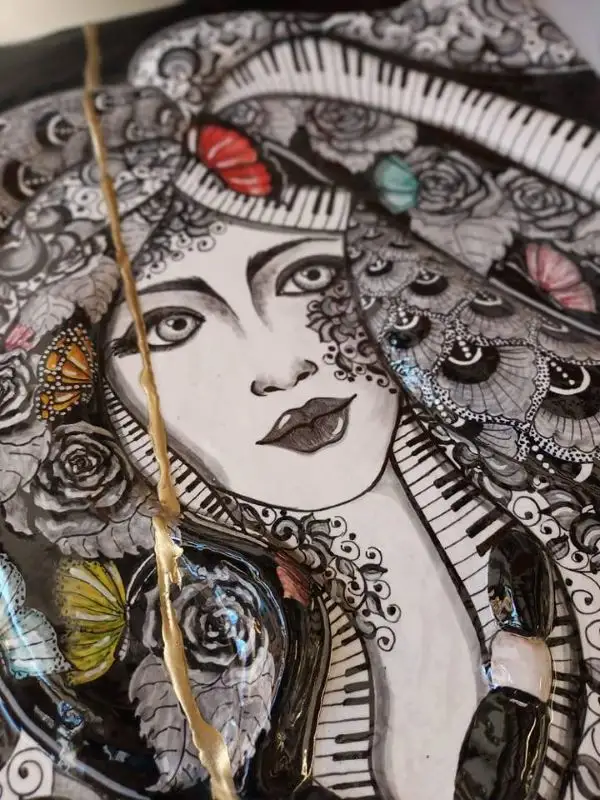 Music and nature are constant sources of inspiration for Marianna's ceramics.
She said: "There is a strong bond between my pottery and music. When I look at my work, I can hear the music setting that inspired it. I created my first motifs, Peacock and Butterfly, while absorbed in Vivaldi's arias. I painted Medusa while listening to Bach's Magnificat. You know, I cannot paint something I have not created myself. I have to live my designs, feeling them inside before I grab the brush."
She works alone in her tiny workshop, located in Deruta's main square. How she can make her gigantic wall plates and large tableware sets in such a small place is a mystery. And yet, sitting on a little stool, pencil in hand, she designs the most intricate motifs, giving free rein to her imagination. When happy with her drawing, she rolls from her desk to her turntable, takes the brush and starts painting.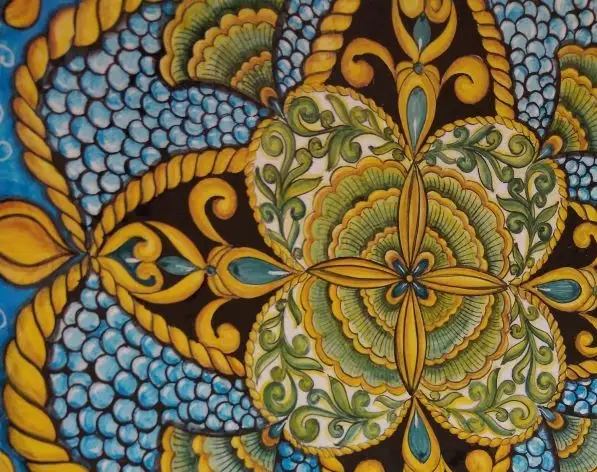 Many times, we've heard her complain that she got carried away and over-detailed a particular design, so much so that it took her much more time than expected to complete it. Actually, this is exactly why we love her ceramics: for their uncompromising complexity and unrestrained creativity.
When we visit Marianna to catch up with her, we invariably find some new treasure sitting on her overcrowded shelves. If you love her style and cannot find the right piece in our catalog, contact us and commission your own art work.