Italian handmade products - Use & Care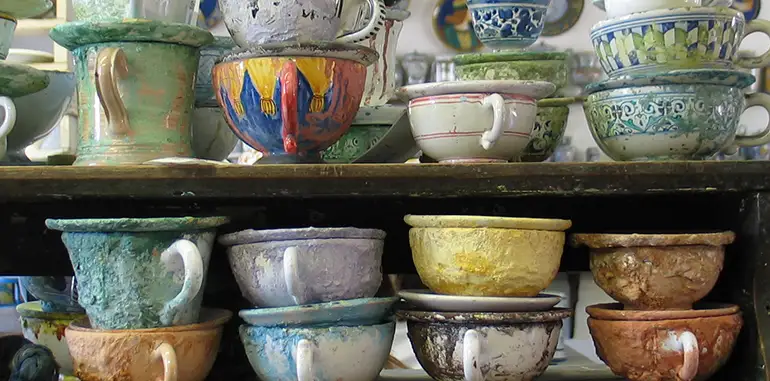 100% Handmade in ItalyTop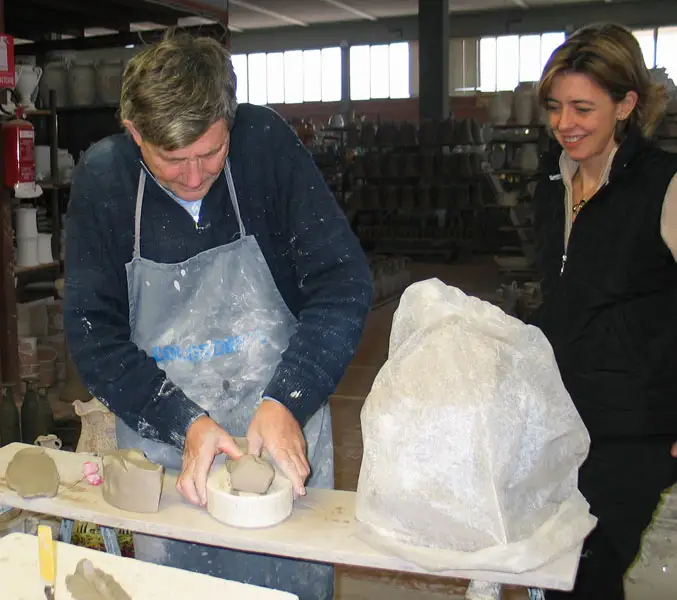 All the products in our catalog are handmade in Italy – no exceptions.
We personally select artisans and their products. We visit them, learn about their production process and the little secrets that make their work stand out from the crowd.

We sell quality goods from many Italian regions. If you're interested in learning more about the items you wish to purchase, you'll find in the left menu information about the very people who made them and the region they come from.

Make your choice and shop with confidence: you can trust thatsArte.com.
How to identify handmade ceramics and spot fakesTop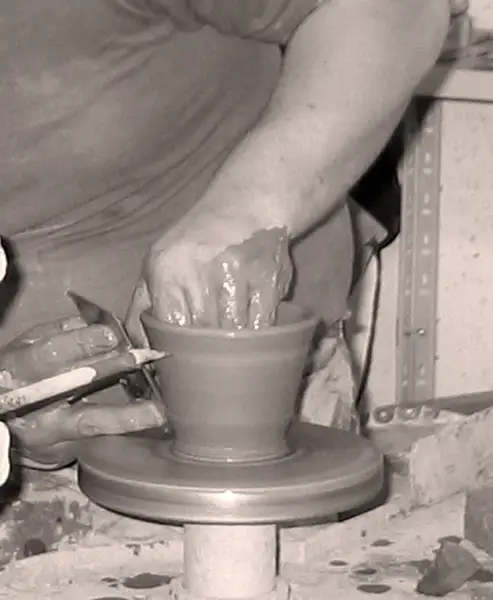 It's common knowledge that pottery is made with basic elements: clay, water, and fire. However, this list is not exhaustive, as a fundamental element is not there: the talents of its maker.

The beauty of handmade pottery lies in its being molded on a fast-spinning wheel, in the little signs left by the tongs used to keep the hands out of the glaze, in the strokes of the brushes …

Manufacturing ceramic pieces takes time and the result is never granted: the kiln for the last firing is always opened while holding the breath. A tiny crack, a bubble in the glaze, and hours of hard work are lost.

Handmade Italian pottery is never cheap and if you're looking for the real thing, beware of deals, bargains, and too-good-to-be-true special offers.

Lots of nice-looking ceramic pieces which are machine stamped and stenciled (decals!) and they are sold as original handmade Italian ceramics. Possibly from reputable regions, like Deruta.
Spotting a fake is possible and quite easy following these simple steps:
Look at the bottom. Turn the Italian pottery item you're interested in upside down and make sure an unglazed area is clearly visible that shows the natural brownish-orange hues of the terracotta (biscotto). Sometimes the unglazed area you see is white because smaller pieces are often made of white grayish clay. In fact, before the actual hand painting, the artist dips the terracotta deeply into a sieve containing fast drying liquid glaze. This fine powder will prevent the colors from spreading and blurring into each other during the painting and will bond with them during the final firing. However, the glaze must be carefully and completely removed from the bottom of the piece otherwise it will stuck to the surface of the kiln and the piece will be irreversibly damaged.
Touch the unglazed area. It must be rough. If it is white and smooth then it's not an original Italian ceramic, made with traditional materials and techniques.
Sometimes it is still possible to detect the marks of the long tongs the artisans use to glaze their pottery: it's two tiny dots usually positioned near the rim of the pieces.
Brushstrokes must be visible. Italian ceramics are always hand-painted and if you look at them closely you will be able to see the single stokes that contribute to the beauty and artistry of your piece.
The design cannot be … perfect!
Think of a dinnerware set where each plate has a nicely painted rim. The pattern is repeated multiple times, but at a close look, each repetition shows tiny differences: perhaps in the shape of a scroll, in the outline of a flower, or in the number of dots in a geometric design. That is not a defect: no human being, actually only machines, can make perfect replicas.
Ceramics: use and careTop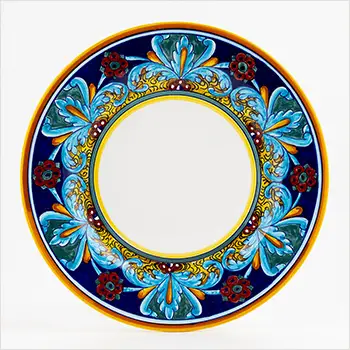 Handmade Dinnerware, Serveware, and Kitchenware
All Dinnerware, Serveware, and Kitchenware at thatsArte.com are guaranteed to be 100% food safe in compliance with FDA standards and U.S.A. import regulations for lead and cadmium.

They are dishwasher safe, although we tend to recommend hand washing. If you want to use your automatic dishwasher, we recommend using a fine china cycle, low heat, and a good quality detergent. And it is better to place the plates or ceramic accessories far apart to avoid touching each other during the dishwashing cycle.

You can put our items in the microwave or conventional oven but we discourage it. In principle, majolica can stand high temperatures. However, the risk of cracking or chipping your piece when very hot and unevenly covered with food is real.

Our Dinnerware and Serveware is not meant to be used for cooking or re-heating.

Proper care and handling of pottery vessels will help them retain their beauty and function for decades. Here are some tips:
avoid sudden temperature changes. Temper with hot tap water dishes and serving pieces before serving very hot foods or liquids to avoid possible thermal shock and cracking. You can also put a metal spoon in your ceramic while pouring a hot liquid to deflect the heat. Crazing has no significant effects on the ceramics, it is mainly cosmetic
never place a piece directly on top of a burner
never place large platters or trays made of clay into the oven. These large flat surfaces are difficult to heat evenly and cracking could result
never use scouring powders or harsh scourers as they will damage the glaze. For easy cleanup, fill with soapy water, let it soak, for a few moments, and use a plastic scrubber for the worst bits
remove tea stains in cups with a solution of 2 tablespoons chlorine bleach per quart of water; soak 1-2 minutes; rinse promptly
black marks left by tarnished cutlery can be removed from pottery with good quality, non-abrasive metal cleaner.
We feel the beauty and artistry of our ceramics far outweigh the little extra care they require. We hope you enjoy using them in your home.

Decoration accents and keepsakes
Decoration objects, keepsakes, and tables are not meant to have contact with food, unless otherwise specified.
Knives: use and careTop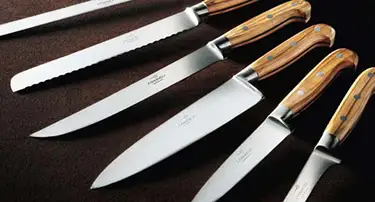 Good kitchen knives are an investment: properly used they'll serve you for a long time.
How to wash your knives: dishwasher or handwash?

Steak knives and kitchen knives with plastic handles can be washed in the dishwasher at low temperature. Dishwasher detergents are pretty harsh on the blades though and in the long run, they can damage them. Another good reason to wash your knives by hand is that sharp blade edges can damage the plastic-coated metal shelves of the dishwasher or be damaged by the other metal flatware.
We recommend washing your knives by hand immediately after their use under running water, if necessary with some dish soap and a soft cloth. Dry immediately.
Remember to rinse off acids, e.g. fruit and vegetable juices, immediately after use as no stainless steel is 100% rust free.
How to remove stains from the knife blades

That's easy: just use a standard non-abrasive metal cleaner.
How to store knives

The ideal place to store your knives is the knife block or the magnetic knife bar. A drawer tray is good too but make sure knives are not loose in the drawer: this is a fast way to take their edges off or hurt yourself.
About sharpening

A sharp knife cuts easily and effortlessly and does not slip, so it's much safer than a blunt knife. When you realize that your knives need to be sharpened do not waste time, use your sharpening steel or take them to a professional knife sharpener.
Last but not least… general advice

Some of our advice will sound predictable, however, we do feel we should put them in writing as we never forget that knives can be really dangerous:
while working in the kitchen make sure you put down your knife with the handle towards you and not too close to the edge of your countertop, so that it will not fall on the floor. Do not cover it with a tea towel so that you may unintentionally grab the blade
don't let your kids go anywhere near your knives
use the appropriate knife for your cutting needs
dry the knife from the spine of the blade, not from the edge
do not test the sharpness of a knife running your finger along the edge
if you decide to purchase a magnetic knife bar, make sure it is a good one, with strong magnetic power, and do not try to cling your knives if they are unclean or greasy as they will not cling securely.
Pewter: use and careTop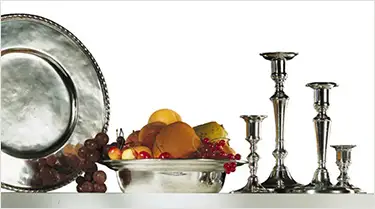 Pewter is a very easy maintenance material.
A few tips to keep its beauty for a lifetime!
Before first use, wash thoroughly your pewter items, if they are to be used for food and drink.
Never place your pewter tableware items in the oven, microwave, or leave them exposed to a naked flame, or any other direct heat source, as pewter has an extremely low melting point (less than 200° C or 390° F).
Avoid leaving food or drink to dry into a pewter container, as pewter is a porous metal. Pewter tableware and flatware / silverware are dishwasher safe, although we tend to recommend hand washing. If you want to use your automatic dishwasher, we recommend using a fine china cycle, low heat, and a good liquid detergent. Using the dishwasher is not recommended if you live in an area of hard water and your house is not equipped with a water softener, as the pewter may tarnish and/or pit.
Unlike silver, Cosi Tabellini's pewter does not tarnish and will keep its shine with a minimum of care.
If, for any reason, it has become slightly dull use a metal polish prior to washing and it will immediately recover its brightness and natural look.
Blemishes can be removed by rubbing gently in small circular motions with the help of super fine steel wool (labeled #0000) and scratches are easily taken care of with a slightly abrasive paste, such as those used to polish the cars.