EUGENIO RICCIARELLI
Vibrant, colorful geometric ceramics from Deruta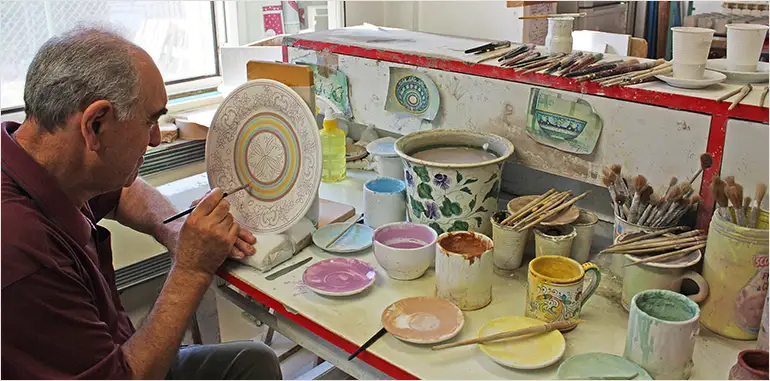 A distinctive feature of Eugenio Ricciarelli's ceramics is their unapologetic vitality. Eugenio's dinnerware and home decor boast vibrant colors and intricate patterns, mixed and matched in seemingly endless compositions.
Eugenio Ricciarelli has been designing and hand-painting ceramics in Deruta for almost 50 years. His creative output is impressive, and so is his reputation for "geometric" ceramic collections, featured in the finest stores of Ravello and the Amalfi Coast.
We have hand-picked for you a fine array of home décor pieces, elaborate tiles and 32 gorgeous tableware and kitchenware designs. Now it's your turn to get creative! Mix and match Eugenio's designs and create your own, mood-boosting collection.
Story of a Deruta ceramic artist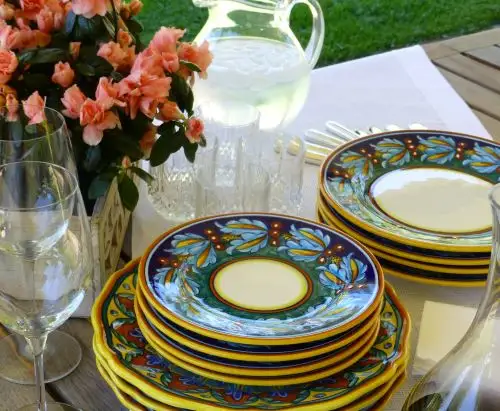 This is the portrait of a man and an artist we have been friends with for almost 20 years.
Let's start with the man. Unassuming and quiet, Eugenio is the most generous person you can imagine, devoted to his art, his family, and his many friends, with whom he enjoys hiking in the woods surrounding Deruta and picking porcini mushrooms and wild asparagus.
He was born into a family of farmers and showed a strong inclination for arts at an early age.
Living in Deruta, the capital city of Italian ceramics, he soon turned his attention to pottery decoration. He was attracted not just by the creative challenge of the brushwork, but also by the endless possibility offered by the interaction of fire and glazes.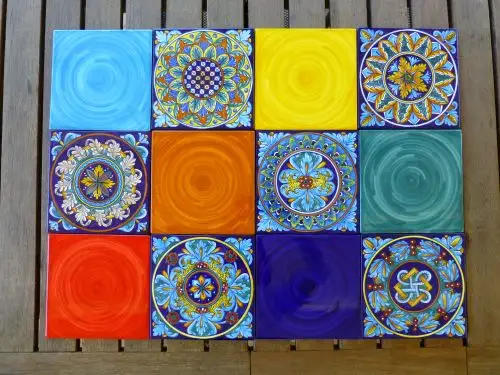 Eugenio's natural talents were shaped and nurtured by some of Deruta's most skilled ceramic artists, such as Folichetti, Buccini, and Ranieri. He worked in Franco Mari's factory for many years. Mari recognized his skills and allowed him to develop his own style and designs.
Eventually, Eugenio set up his own workshop. Hidden in a dead-end street, far from the hustle and bustle of downtown Deruta, the place is a mirror image of the artist. Tidy, quiet and yet bursting with the exuberant colors of Eugenio's ceramics.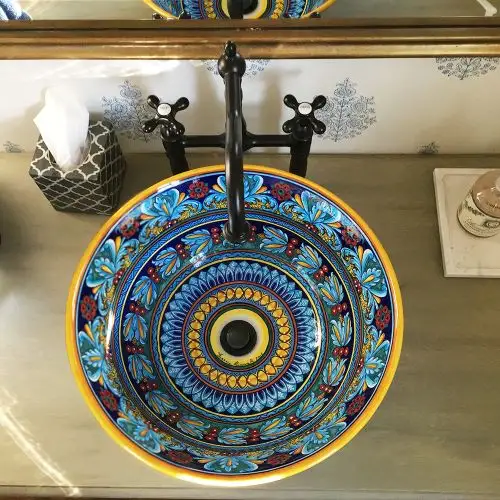 Over the years, Eugenio Ricciarelli has produced an astonishing variety of geometric designs featuring his signature velvety blue background. He himself carefully paints them on a vast array of pieces: dinnerware, bowls, umbrella stands, vases, planters, tiles, wall hangings.
We have often worked with Eugenio on bespoke projects, as well. He enjoys pushing the boundaries!
Despite the success of his ceramics, Eugenio always has refused to "go big". He works solo, with some help from his sister-in-law and his niece. While listening to an old radio, he paints with a free, easy-going hand, layering glazes, perfecting shades, working his magic.