Eugenio Ricciarelli: a beloved Deruta artisan
Eugenio Ricciarelli is the author of one of the largest and most acclaimed collections of geometric Deruta dinnerware and home decor accents.
Featured in the finest stores of Ravello and the Amalfi Coast, Eugenio's pottery stands out from the crowd thanks to its elaborate designs, vibrant colors and velvety blue background.


Shop Deruta ceramics by category
Learn about Deruta ceramics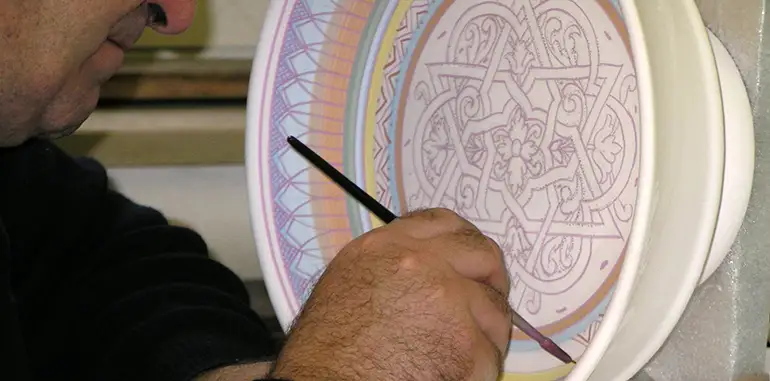 Eugenio Ricciarelli's creative vein appears to be inexhaustible: to date, his geometric tableware collection consists of 32 original patterns.

The classic tableware and kitchenware designs, marked with "E", are available in a band or a full decoration. His semplice tableware and kitchenware designs, marked with "S", are only available in a band decoration. Mix and match Eugenio's patterns to create a unique geometric pottery collection.

We have been friends with Eugenio for almost 20 years ... we have shared joys and sorrows and grown to be very fond of the man.
He is the most generous person you can imagine, devoted to his art, his family, and his many friends, with whom he enjoys hiking in the woods surrounding Deruta and picking porcini mushrooms and wild asparagus.

He started making pottery very young, driven by a stubborn passion for ceramic decoration. His natural talents were first nurtured by some of the most skilled ceramic artists in Deruta, then honed in the factory of Franco Mari, where he developed his distinctive style.
Eugenio set up his own workshop more than 30 years ago. Since then, he has created more than seventy geometric patterns that have become extremely popular in the high-end stores of the Amalfi Coast, as well as in the US.

But being a special person is not the only quality Eugenio is gifted with. Born in a family where pottery making was neither a job nor a passion, he has built his reputation from scratch. He was lucky, though. His natural talent as a ceramic painter was discovered and nurtured by some of the most skilled ceramic artists in Deruta, such as Folichetti, Buccini, Ranieri. He spent many years working in Franco Mari's factory, where he developed and refined his personal interpretation of the Renaissance geometric decorations.

Despite the success of his ceramics, Eugenio has always refused to "go big". He does all the work himself, with help from his sister-in-law and his niece. While listening to an old radio, he paints with a free, easy-going hand, layering glazes, perfecting shades, working his magic.

If you like the geometric style from Deruta, Eugenio is your man. We carry his most beautiful dinnerware collections, as well as a large number of kitchenware pieces, decoration accents, and richly decorated tiles. And we are always thrilled to work on bespoke projects.