Our Customers reviews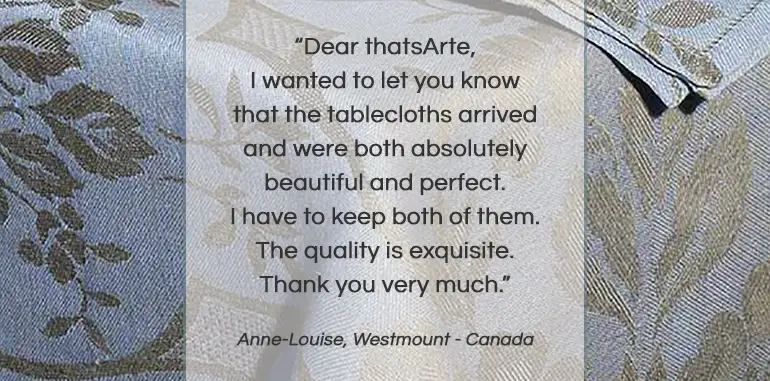 Your suggestions are welcome
We'd love to hear your thoughts, suggestions, and ideas about our selection of handmade Italian products, our services, our website and anything you think is important to improve your experience as a Customer.
Do contact us ! A simple suggestion can turn into a huge benefit to our Customers community.
What our Customers think about their purchases and shopping experience with us
We regularly ask our Customers a short comment on their shopping experience, meaning how they like the Italian pottery piece they have purchased and the quality of our communication and services.
Below you'll find a short list of the latest feedbacks. We believe that they will give you a good idea of what to expect when dealing with thatsArte.com.
Thank you all for your very kind words!
Thank you very much for my order, the 4 plates arrived safely today. I am delighted with them, and pleased to find they match the original ones dated 1998 – please thank the artist, Eugenio Ricciarelli, from me. What wonderful designs and so beautifully glazed! I am very lucky to have found your online shop and that Eugenio has continued making this wonderful range of tableware, which has been much admired by our many dinner guests. It's been exciting to be able to buy the same unique hand made ceramic plates I found in Ravello over 20 years ago (and, at the time, was unable to find in Umbria or Tuscany)! Thank you for processing my order so speedily. Best wishes,
Joannah, Bodenham - UK
Dear thatsArte.com, I received my order of a beautiful Pompei pitcher yesterday which arrived in perfect condition. Ordering from thatsArte.com was extremely easy. My order was received within a short period of time and I was kept informed of when it would be shipped and how soon I could expect delivery. My shopping experience was very positive and I would definitely feel comfortable about ordering from your company in the future. Also, want to mention that your website displays your products and their colors exceptionally well. Thank you. Sincerely,
Virginia, Forest Hills - NY
The mugs arrived today and they are fantastic. They remind me of being in Umbria. Thank you!! Regards,
Gillian, Berkeley - CA
Dear ThatsArte, I just received my orders. The pottery is bellisimo. I am so very pleased with the pottery and my compliments to your artist and staff. Your company even though far away is easy to do business with. Again. The pottery is more beautiful then the pictures could show. Please let anyone contact me if they need reassurance to order through you. Thank you so much and have a wonderful day.
Dina Marie, Vancouver - WA
I received my canisters and olive oil container today and they arrived in great condition and looks just gorgeous - thank you.
Sandra, Fremont - CA
The Deruta Canister arrived safe and sound yesterday, it is exactly what we wanted to match a smaller canister that we bought when living and working in Italy.We thank you for your attention and keeping us informed throughout the time from order receipt to shipment. Sincerely,
Keith and Sheila, Sarasota - FL
Manuela, thank you so much. I love the cookie Jar and Canister that I ordered. Your team did an amazing job. The package arrived today, perfectly wrapped. The painting on each piece is exquisite. They match the pieces I got in Italy last year from a whole different company, yet yours are more detailed and prettier. You exceeded my expectations in every way. I look forward to ordering more in the future. Thank you,
Candice, Rockville - MD
Dear Manuela, I hope you are well. The bowl and tray arrived today, and I am overcome by their great beauty and quiet dignity. I can see the artist's hand in the high quality and unique character of these lovely pewter pieces. Kindly tell the artist that I am very happy and fortunate to have them, and that they will be cared for and handed down with pride in my family. My thanks to the artist and also to you for all your help with this order. Un caro saluto,
Josephine, Providence - RI
Dear Tiziana, You are a miracle worker! Both fabulous tablecloths just arrived!! So my Easter is complete and all thanks to you. So many thanks for your efficiency and professionalism. I shall certainly call upon you again. I hope you have a very happy Easter, and some holiday. All the best,
Helena, Pasadena - CA
Good Morning - Received my pieces yesterday and to say I am delighted is an understatement. They exceeded my expectations. I will be ordering a couple of more pieces when I return home at the end of April. Thank you for such great workmanship and communications. Best,
Hazel, Avon - CT
The plate arrived today in Colorado safely and well packed. It is stunning: beautiful craftsmanship and color. I am delighted. It was so nice that it could be personalized and shipped with such a short turn around time. The tracking feature was very nice, I knew just when to expect the package. I have many other pieces from Deruta and the quality varies, this piece is exquisite. Thank you!
Tyler, Boulder - CO
I had a great experience purchasing this tile from you. Tiziana, the person who helped me, could not have been nicer … or more patient. And I love the tile, as does my husband (it was a birthday gift for him). So, thank you! I will be sure to recommend thatsArte to my friends and family members.
Jeanne, Palo Alto - CA
Manuela, Hello again.... I wanted to let you know that the new mugs arrived and they are a perfect match to the set we had for some time. Thank you for getting this corrected so quickly. The pottery we have received over the years from you is a important part of our home, and the envy of many of our friends. We will certainly order more in the future to expand our collection. Regards,
Dan, West Milford - NJ
I received the well wrapped package holding a beautiful Eugenio Riciarelli wall plate. The vibrant colors, design, and execution are perfect. It hangs in the heart of the house where all tend to congregate, my kitchen. Thank you for this treasured piece.
Leena, Street - MD
This is the second time I have ordered for ThatsArte and once again I am amazed at the exceptional service. The FedX tracking indicated the package would be delivered by 10:30 this morning. At 10:31, the doorbell rang and it was the FedX delivery man. I haven't opened the box yet as the pitcher is a gift for my husband and he's here this morning. Our last purchase was a pitcher as a wedding gift for our niece. It was my husband's idea and he picked out the design. He was so taken with it, I decided I would order one for him as a surprise for Christmas. I know he will be so happy to have this beautiful piece of Italian table art. Many thanks for another great gift and for the excellent service. Merry Christmas from a very satisfied customer in Washington, DC
Sandra, Washington - DC
I ordered the Broca dei Ceri bombonieri size and one about 8 inches. They were beautiful. Came packed very well. No problems. I will order from ThatsArte again. Thank you Manuela.
Angela, Brampton - Canada
Buongiono Manuela, E' arrivato tutto ieri in ordine. Sono bellissimi. Grazie tante e saluti,
Béatrice, Vandoeuvres - Switzerland
Tiles have arrived in good condition - look great.
Doug, Elberta - AL
Just to let you know that my order arrived safely yesterday and I am delighted with it. It looks wonderful on a table in my hall and is just exactly what I was hoping it would be. The description on your website was very accurate and it's always good to receive exactly what you are expecting. The ordering process was very straightforward and you were very helpful at keeping me in touch with tracking the delivery. Many thanks and I would certainly use your website again and recommend you to friends. Kind regards,
Pam, Edinburgh - UK
Dearest Tiziana and Manuela, I wanted to sent thanks from myself and my husband for arranging the production of our Rafaellesco Dragon address tile. It arrived quickly and in perfect condition. It is absolutely fabulous! And certainly, is one-of-a-kind! You were both so kind and patient with us as we were going through the ordering process. Warmest regards,
Elaine and Scott, Midland - TX
Good afternoon, The shipment has arrived and the tiles are very beautiful. Perfect! Thank you so much for your fine products. I will place another order very shortly.
Sylvano, Timmins - Canada
I would like to thank you for supplying the panel that I ordered which arrived safe and sound this weekend and with which I am delighted. Your helpful friendly service has been exemplary. The panel you supplied was as you described and is just what I hoped it would be and as you advised a fortnight before I leave for France. You are giving a service in making available real works of art which were not easily available before for which I thank you wholeheartedly. I look forward to many future purchases. Best wishes
Roger, Altrincham - UK
Dear Manuela - My Son has received his vases today they are in perfect condition and he absolutely loves them. The shipping was excellent always keeping me informed with the progress. I would like to thank you for your outstanding service always answering my emails and keeping me updated - its been a pleasure dealing with you and I hope to order something for myself in the near future. Thanks again. Kind Regards,
Maria, Melbourne - AUS
Received my tablecloth yesterday. I love it, and it is more beautiful than I expected. Thank you!
Hillary, Westfield - NJ
My canister arrived today and it is perfect! It replaced a very old and beautiful ceramic canister that I had for many years. I could not find anything that served the purpose of holding my espresso coffee that was also lovely to look at until I found your products. Thank you for the "Arte". Cheers,
Susan, LeClaire - IA
Just wanted to let you know, by bowl arrived in perfect condition, and made as beautifully as ever! Thanks for all the good work you do!
Tom, Nolanville - TX
I received the BEAUTIFUL dishes yesterday - all in perfect condition! Thank you again for your patience!
JoAnn, Scottsdale - AZ
The tile arrived today - beautiful and in perfect condition. Thank you so much for your kindness, generosity, and commitment to quality and customer satisfaction. This replacement is truly above and beyond. My father's family is from Sicily - they emigrated to the States when my father was a child - and I hope when I travel there at some point to visit places where these lovely ceramics are made. Grazie mille. Kindest regards,
Josephine, Providence - RI
Wanted to let you know I just received my small warrior plate! It was perfect!!! Thank you so very much!
Kate, Powell - OH
Wow - it is absolutely stunning. A Christmas present for me!
Sue, Cowra - AUS
Hello, The whole shipment arrived today and after inspection, all is well. Great job of shipping and packing. I really appreciate the personal touch that you have at thatsArte. Have a wonderful Christmas.
Charles, El Cerrito - CA
The piece is beautiful! Thank you for your help,
Tina, Philadelphia - PA
The tiles arrived today and they are beautiful. I will send you pictures when we have them placed in our new kitchen. Please thank Signor Alessi and tell him we will treasure his work for many years. Best regards,
Lisa, Oakland - CA
Dear Manuela and Tiziana, My dishes arrived last week and I am absolutely thrilled with them. They are so beautiful and the craftsmanship is superb. They look gorgeous on my dining table. I also want to commend you on your customer service. It is unparalleled. It has been a pleasure to do business with you. I would wholeheartedly recommend you to anyone who wants a quality product and excellent customer service. Thank you. I will enjoy the dishes for years to come. They bring back fond memories of past visits to Italy. Please extend my thanks and compliments to Eugenio. I am proud to own some of his art. Sincerely,
Janice, Pinehurst - NC
Thank you for our order which arrived today. We are very pleased with your service and with the beautiful tablecloths. Kind regards,
David, Surrey - Canada
Received my order today, and it is lovely. I am glad I was able to still order these pieces. Thank you for all of your help,
Laura, Fremont - NV
I received everything in good order. I am so happy with the dinnerware! I have it displayed in my dining room. Please tell D&G how pleased I am with the product, and with your service.
Christine, Issaquah - WA
Our Raffaellesco mugs arrived today and everything is good, they were intact due to your excellent packaging and they are BEAUTIFUL! And of course my wife is thrilled with them, and was very touched at the personalized message on the bases. I should add that I looked at many versions of these before making my decision and have to say that the artisans at Fima create the most beautiful examples I could find anywhere. Mille grazie! Best regards
Brian, Calgary - Canada
I cannot thank you enough for the wonderful tiles, which arrived yesterday. Everything about your service has been excellent - Tiziana has been so knowledgeable, helpful and patient, and the whole experience of ordering custom tile with you has been unbelievably smooth and easy. Most importantly we love our tiles! I plan on recommending thatsArte to everyone I know. Thank you so much!
Sarah, New Rochelle - NY
The plates have arrived and they are beautiful. We are very pleased. Thanks! Greetings,
Elisabeth, Ouderkerk aan de Amstel - Netherlands
Dear Manuela and Tiziana, Our vase has arrived! We are happy with it, and very appreciative of the skill and painting. All good wishes,
Vanessa, Herefordshire - UK
The beautiful piece arrived at our time 2:30 pm. I waited a couple of hours prior to opening the box. So it could get to room temperature to avoid cracking. Especially where its so cold here. But I must tell you its beautiful, and in perfect condition. And you will be my source for future purchases. Once again thank you for making my day. Sincerely,
Joseph, Middleboro - MA
Hello, we wanted to let you know, our order arrived several weeks ago and the tiles are absolutely GORGEOUS! 14 glorious tiles by Francesca Niccacci in Deruta. We can't stop looking at them, and neither can our kitchen designer. We can't wait for that part of our kitchen remodeling to begin so we can see these works of art every day. The package was beautifully and very securely packed. It took quite some time to get through all the packing but it was well worth it - not one single chip or damage of any kind. And we appreciated the personal phone calls to assist us in placing our order. We know we can feel secure ordering from ThatsArte in the future. All the way from the studio in Deruta to our home in North Carolina, a world away. Such beauty. Thank you!
Rachel and Kevin, Mebane - NC
Thank you so much, my order has arrived safely in Australia. Each item was so well packaged it ensured a safe delivery. Every piece is so beautiful, I am thrilled to display them around our home. The work of your artists is spectacular and so individual. Thank you both, it was a pleasure once more to purchase from you. Keep well and Happy Christmas to you!
Gerry, Melbourne - AUS
I received the product and I am very, very pleased with it. Thanks you for your wonderful service and please thank the artist that made this beautiful tea pot and plate. Cheers for many happy memories to come!
Joanne, Bomoseen - VT

We got the bowl yesterday. It's beautiful; my wife is very happy and asked me to thank you. Thanks so much! Best regards,
Michael, Huntington - NY
The package arrived in time for my event, packaged extremely well. I cannot thank you enough for your excellent customer service. The quality of the plate, the artistic expression was wonderful. I had delayed ordering the plate because the designs looked so nice, I had a hard time choosing. The plate was more than I could have imagined. I will be ordering other items. Thank you again for your customer service and quality of your products. Please express my gratitude to everyone involved.
Sharon, Hemlock - MI
I piatti sono meravigliosi!! Mille grazie!! Eugenio e un vero artista, e lei e molto gentile! They arrived in perfect condition, and they exceeded my expectations. I am so happy to have encountered your website. I'm sure I will be ordering more from you in the future. Perhaps I will seek you out in person one day in Italia! Thank you again. Warm regards.
Maria, West Islip - NY
I just received the dolphin legged bowl center piece and it is gorgeous. It is going in my newly renovated dining room. Much appreciated. This is the third item I have ordered from you and have never been disappointed. Thanks again!
Patrick, Sugar Land - TX
My Dear Tiziana and Manuela, THE DISHES ARE HERE!!! AND THEY ARE GORGEOUS!!! Not one crack or chip! Oh, my! This is a very special day! I thank you! I especially thank Eugenio! I will write a proper note to Eugenio, and ask that you translate to him. THANK YOU THANK YOU THANK YOU!
Nancy, Evanston - IL
This is feedback for you on my recent order. I am most pleased with the service you have provided, including the timeliness of notices on order completion, shipping, etc. One could not have been treated better. As for the product, these tiles are fabulous. The colors are properly stated, the images exciting, and the quality of work is exceptional. I have attached a photo of the tiles as they have been installed in our kitchen. They set it off perfectly. Thank you very much.
Richard, St. James - NC
All arrived quicker than promised and in great condition. I am quite happy with your service and plan to place additional orders. You are providing a very useful service by making these producers accessible to the overseas public, and I thank you very much for that. Good luck with your business.
Ken, Ketchum - ID
Your exquisite ceramic platter arrived safely by UPS the other day....and I gave it to my nephew and his fiance tonight as their wedding present. They were both so blown away by the beauty of the artistic work itself - a look and a feel and with such vibrant colours that are not as easy to catch when looking at the computer screen. They were also touched by the personalized message written beneath the plate near the signature of the artist. Many, many thanks to you and your brilliant artist for making such an incredible work of beauty. It is really quite fabulous. Please extend our thanks to the artist who crafted this piece on our behalf. With kind regards.
Kate, Toronto - Canada
We are very satisfied with customer service and our item. It arrived on time and in good condition. Very excited about adding it to our home decor. Please tell the artist we love it and they did a wonderful job. Hope to be adding more pieces in the near future. Would like to have some matching wall plaques.
Rosemarie, Concord - NC
The plate arrived today. Thank you very much...... bellisimo!!!
Mary, Buffalo - NY
You are so sweet to check to see if the package shipped me has arrived. It did arrive in great condition several days ago. Thank you so for all of your assistance and I appreciate your follow-up. Best wishes to you and yours for a very Merry Christmas and a happy, healthy and prosperous new year.
Bill, Greensboro - NC
A note to say thank you very much! The mugs arrived and are as beautiful as I expected ~ lovely art.
All the best for 2014 and again THANK YOU!
Mary, Toronto - Canada
I wanted to let you know that the order arrived today and the pot is perfect and beautiful! No damage at all. Thank you so much for the replacement. Buon Natale!
Julie, Irving - TX
My beautiful table cloth arrived today….as always I am so pleased and the cloth is so exceptional….You and your team are the best! Have great Holidays…
Tom, Nolanville - TX
This email is just to confirm that I've received my order as promised. I am so happy with it's craftsmanship. It looks beautiful! In fact I am happy with the whole experience. From navigating your website to the great selection of items offered, placing my order, requesting adjustment to my order via email, receiving my shipment on time, which by the way, was very well packed for the long journey home. Thank you so much. Happy Holidays!
Ana, Leesburg - VA
Dear Manuela, I've safely received all parcels in Moscow. I have to admit that the items represent a real piece of art.Thank you so much for your help and excellent services. It was a pleasure communicating with you. I would love to buy few more items of Italian ceramics next time we are in Italy. So I hope we 'll get in touch soon. Thanks a lot,
Natalia, Moscow - Russia
Over the past few years I started and have been adding to my dinnerware service. Every order is in perfect condition and the service is excellent. I would highly recommend That's Arte to everyone. I searched high and low to find a vendor with a variety of high end products along with tons of choices. You can't beat That's Arte for class, quality and style. The compliments I receive from dinner guest is extraordinary. Thank you Manuela and crew for everything!
Johnna, Dallas - TX
The dishes arrived this afternoon safe and sound. They are more beautiful than any picture. I'm so glad you suggested mixing patterns because they look totally unique but they all relate. Eugenio really did his best for me and it shows. I cannot tell you how happy I am with everything. Please tell Eugenio I love his beautiful painting. I am an artist myself so I do appreciate what what he has done. Thank you for all you have done to make this work. Sincerely,
Judith, Topeka - KS
My beautiful dishes arrived today! They are in perfect condition! And so Beautiful! Thank you and the wonderful artists who made them. I must order more in future!
Tom, Nolanville - TX
Another box of exquisitely crafted Italian pottery arrived here yesterday, and I was just delighted. It made me smile! The charming Peacock wall plate now beautifully graces the wall above my stovetop. Several of the other pieces are destined for Christmas gifts later this year. Thank you again for making this exceptional work so widely available. Warmest wishes,
Eugene, West Hollywood - CA
Our Ceramic Tile Panel has safely arrived and we are very pleased with it. A few years ago we spent a week in Taormina and we were delighted with the decorative ceramic panels on the exterior many of the houses. Ever since I have wanted something similar on our house in Melbourne, but it has been impossible to obtain a locally made Panel that had the true Sicilian style and quality. It was only when I discovered the ThatsArte website that it became possible. To purchase the Panel to our instructions from Sicily and have it delivered to Australia was a simple process. Thanks to all at Ghenos and ThatsArte. Grazie
Brian, Melbourne - AUS
The package arrived! I opened it this evening. We are delighted with the Serving bowl by Eugenio Ricciarelli.
The service from beginning to end has been superb. Eugenio Ricciarelli's fine craftmanship with beautiful design and colour combination is exquisite indeed. Our table in this northern place will be much enhanced with summer salads served from the lovely bowl from Deruta, Italy. Thank you very much.
Jill, Nora - Sweden
Dear Manuela and Tiziana, Yesterday afternoon, I received the exquisite Rampini fruit bowl and garlic jar here in California, and my mother received her garlic jar across the country in New Jersey. We were both absolutely delighted by their beauty, and the deft skill and care with which they were made. Thank you for helping to bring the work of fine Italian craftspeople to the world, and for your warm and friendly customer service. I hope to do business with you again very soon. Until then, be well. With fondest regards,
Eugene, West Hollywood - CA
Thank you very much for the oil/vinegar jars. They arrived this afternoon and are exactly what i wanted. Thank you so much.
Julia, Wadebridge - UK
Hi Manuela - My wife received the jewelry box for Valentine's Day and she absolutely loved it! Please thank Alvaro for me for creating such a beautiful piece of art. The personalization inside the lid was perfect. It worked out fine. As always, a pleasure to do business with you. Regards to Tiziana. Best,
Barry, Baldwin - NY
Dear Manuela and Tiziana - The tiles arrived today in good shape. I will send you a photograph when we have mounted them on the wall. I am thankful that you managed to meet the delivery date, and last but not least the tiles are beautiful and they surpass my expectations.
Per-Anders, Lund - Sweden
Manuela and Tiziana, The pottery arrived today in perfect condition and looking beautiful as I expected. Thanks and probably will be getting a few other pieces for gifts sometime very soon! Gracie mille!
Patrick, San Francisco - CA
Dear ThatsArte, I love my new canisters. I have searched and searched for hours upon hours to find bright, colorful, vibrant canisters to add to my kitchen decor. I love the three I received. They came in perfect order too.
Cristal, Levelland - TX
Hi Tiziana and Manuela, My wife loved the Ghenos Angel. It arrived right on time, very well packed, and in great condition. It is a pleasure to deal with you. You are very responsive to my requests and return emails promptly. I look forward to purchasing from you in the future.
Happy and healthy New Year to you and your families. Graze Mille,
Barry, Baldwin - NY
I received the pieces I ordered in perfect shape and they are beautiful! I could not be happier with the craftmanship and art work that make them so special. I can't wait for my various family members to receive their pieces and of course I bought one for myself that I will treasure for many years. Your communications were wonderful and honest and timely and I will definitely look to your company for future purchases and I will pass your information on to the family members receiving your pieces as I know they will want to add to the treasure they receive from me. Thank you for everything. All the best and Happy Holidays!
Mike, Seminole - FL
Dear Manuela and Tiziana, I just want to say that once again I am thrilled with the exquisite bowl I have just received, it is another beautiful piece to add to my collection. As usual you were such a delight to deal with and thank you also for all your help in keeping me informed of the progress of the artist working on the pottery and making it such a smooth and easy transaction. I can't wait to order more to add to my collection. Many thanks,
Leanne, Caringbah South - AUS
Hi Manuela and Tiziana - Received the order today in time for Thanksgiving. It arrived in perfect condition. My wife was thrilled with the bowel and platter. They will look great on our Thanksgiving table! Graze Mille,
Barry, Baldwin - NY
Dear Manuela and Tiziana - My order arrived safely today, October 12. I appreciate your careful packing and wrapping. My little treasures are beautiful, exactly what I was hoping they would look like. The four little ones are to be Christmas gifts for family - the big one I am keeping for myself! I think the quality of your communication and services is excellent. Thanks for bringing me little pieces of Italian sunshine.
Jan, Evanston - IL
I received my order this morning. All pieces arrived unbroken due to your careful packaging. The pieces are more beautiful than I imagined. The design is stunningly beautiful, complex, and textured. I have bought several hand painted dinnerware pieces in my travels to Italy and Sicily and I have to say that yours surpass almost all of them in their artistic quality and craftsmanship. Thank you for continuing the long tradition of hand painted ceramics in Italy.
Christine, Spring Lake - MI
Beautiful pottery. Great colors and very well done. Looks great in our house
Jan, La Jolla - CA
Manuela, just got my dishes! They are so beautiful and UPS got them here so quickly! You have a wonderful business and you do everything right!
Bonnie, Atlantic Beach - FL
We received the package on the evening of the 26th and all tiles arrived perfectly beautiful, thank you, next correspondence will be a photo of them in place! Thank you!
Elizabeth, New York - NY
Dear Manuela and Tiziana: I RECEIVED MY BEAUTIFUL PLATE YESTERDAY AFTERNOON AND I AM SO HAPPY WITH IT. IT IS SO WONDERFUL THE WAY YOU TAKE SUCH CARE IN PACKING IT TO AVOID DAMAGE. IT IS A GIFT FOR MY NEICE AND I KNOW SHE WILL REALLY LOVE IT. SHE HAS BEEN LOOKING FOR AN ITALIAN PLATE LIKE THIS FOR A LONG TIME. I WANT TO THANK BOTH OF YOU FOR THE GREAT WAY YOU HANDLED MY REQUEST. IF I EVER FIND SOMEONE WHO IS LOOKING FOR GREAT ITALIAN CERMIC PIECES I WILL CERTAINLY GIVE THEM YOUR E_MAIL AND PHONE NUMBER.THANKS AGAIN FOR YOUR WONDERFUL HELP IN LOCATING THE PERFECT GIFT. BEST REGARDS
PEGGY, Wallingford - PA
Thank you! My father-in-law received the spoon rest today and texted me that he loved it. I found the experience very good in that you always let me know what was going on with the order - I never had an issue and appreciate your attention to your customers.
Jon, Palm Coast - FL
Dear Manuela and Tiziana: I received my order yesterday and the pieces are just beautiful! The color is the most wonderful yellow and the design makes me smile everytime I look at it. Thank you so much. I look forward to adding more Italian ceramics from thatsArte to my kitchen collection.
Martha, Fort Wayne - IN
All I have to say is very positive. You went out of your way to be helpful to me. I received my two pieces yesterday and I love them!!! They remind me of my wonderful trip to Italy. I would recommend your company to my friends and family, and I will not hesitate to order from you again. Thank you so much for being so accommodating.
Carolyn, Hereford - TX
The package came today. It was so very well packed and I was excited to receive the plates. The whole experience has been a very happy one, from the web site, through the communications about the order, to receiving the package. Thank you very much.
Catherine, Columbus - NC
Hello Manuela & Tiziana, I just unpacked my order and so am responding as asked. The pottery is just fantastic and so beautiful! I hope you will relay this to the makers for me. Your service was impeccable. Thanks so much for the excellent shopping experience.Ciao,
Kari, Billings - MT
The tiles arrived today, and they are wonderful. Thank you, thank you, thank you.
Deb, Green Valley - AZ
Dear Manuela and Tiziana, We just received the new set of tiles, and you are absolutely correct: they're perfect! Thank you so much for your help. The size is exactly what we were looking for. We're really happy with such excellent customized work. Please pass on our appreciation to your workshop for their willingness to fulfull a special request. We really appreciate it! All best, and thanks so much again,
Pete, Colorado Springs - CO
I received my new pieces, they are superior to any other Ricco design and finish. We enjoyed them over candlelight, last night. Mille Gracias,
Stanley, San Clemente - CA
Manuela and Tiziana, I received the plates today and I just wanted to let you know that I think the plates are beautiful and thanks very much. Your customer service was great, I always received a reply to my emails promptly. My grandmother and grandfather came to the U.S. from Italy in the early 1900's, so its a pleasure to have these beautiful Italian art pieces in my home. Grazie!
Jeff, Syracuse - UT
Dear Manuela and Tiziana, We received our order in the mail several days ago, as you promised, and we find the tiles every bit as beautiful as advertised on your website. The artwork is absolutely fantastic! We also very much appreciate your prompt assistance at every stage of the ordering process, from questions we had about size and availability, to tracking and arrival time. (BTW, if you both are Italian, I'm not sure where you learned your English, but wherever it is, I want to study there myself.) Thanks again for our beautiful tiles, and for your kind help. All best,
Pete, Colorado Springs - CO
My order arrived yesterday thank you - beautifully packed and perfectly safe. The jug and plate are exactly as they looked on your website, the colours very true to the photos which doesn't always happen. If you are ever able to get some candlesticks to match the plate I would love to know sometime. Meanwhile, many thanks for your splendid service. I am really thrilled. Tanti saluti,
Barbara, Picton - NZ
The plate has arrived safely and I am so pleased with it! Thank you
Renee, Florence - OR
Hi Manuela and Tiziana, I wanted to drop you a line to say I safely received my pieces and they are absolutely beautiful! Thank you so much and I will be back on your site shortly as I am looking to add to my collection already! Thanks again to you and the fine team of artists! Regards,
Sally, Danville - CA
Good morning Manuela and Tiziana, Happy New Year. I hope your year is a happy, healthy and prosperous one. I just wanted to take this opportunity to inform you that my order was delivered before Christmas, and in perfect condition. Each item is beautifully designed and one can appreciate the craftmanship involved that makes these ceramic pieces works of art in their own right. I also wanted to convey to you what an absolute pleasure it was in dealing with you during this process. The ordering process was easy, and you kept me abreast from the outset that the specific items I ordered were not in stock and that every effort would be made to produce and deliver the items before Christmas. It is because of this experience that will make me consider ordering again from thatsarte.com. Thank you again for all your assistance and have a Happy and Healthy New Year.
Phil, Marlboro - NJ
Hi Manuela and Tiziana, The pieces arrived today in perfect shape. They are beautiful and I am sure that my wife will enjoy them. My experience with thatsArte was excellent. You returned my emails promptly. My only wish is that shipping was less expensive. Happy holidays! Sincerely,
Barry, Baldwin - NY
Dear Manuela and Tiziana, The shipment safely arrived. The pottery is gorgeous. Simply love it. Thank you very much for your business. It has been real pleasure being your customer. Kind regards,
Galina, Sydney - AUS
Dear Manuela and Tiziana, Hope all is well. I've been meaning to write to you sooner, but things are just a little hectic around here right now with Christmas around the corner. I wanted to tell you that I'm very happy with the planter, vase and plate that I bought from you, I absolutely love them. Also wanted to thank you for your friendly and efficient service, it made my whole shopping experience with you so easy and pleasant. I'd like to wish you and your family a wonderful and peaceful Christmas and holiday season. Best regards,
Anita, Ewshot - UK
Hi Manuela & Tiziana, The pottery arrived last week and they are absolutely beautiful and make a lovely addition to our dining room. I am looking forward to making use of them! Thank you
Helen, Nedlands - AUS
Hi, Manuela and Tiziana, I have just received the package from you - thank you. The dish is beautiful and arrived very quickly. It's been a pleasure ordering from you and I'm sure you'll hear from me again! Many thanks and best regards,
Sandra, Hatfield Herts - UK
Dear Manuela and Tiziana, I received my order today and wanted to tell you how beautiful everything is! The colors are incredible and the quality is superb. I feel I had an excellent experience with your business and will come back if I need any more pieces. The colors are very beautiful and I am completely satisfied. Thank you so much!
Allison, Dallas - TX
Dear Manuela and Tiziana, The package arrived last Friday and is everything I hoped it would. It was a house warming gift for a special friend and they were absolutely delighted. It arrived in a very timely manner and was package with great care. I am so very happy with every aspect of my order. Thank you so very much. Sincerely,
Ellen, Lockport - IL
Hello Manuela and Tiziana, We received our order yesterday and the pitcher and plate are stunning! More beautiful than the pictures on the website. Thanks so much for the gorgeous items and the super service. I especially appreciated how we were able to select from 2 similar pitchers that were made. Hope to order more from you in the future. Best,
Lynn and Fabio, Como - Italy
Hello Manuela and Tiziana, Just a quick note that the Brocca have arrived on Friday and they are absolutely beautiful! My husband was so excited :) I promise, I will send another email with my positive feedback at a later date. I just wanted you to know that they arrived. Thanks,
Jenn, Pottstown - PA
Dear Manuela and Tiziana, My wife, Bonnie, was delighted with the mugs which I bought her for Mother's day. Thank you for your quick response to my order and for your personalized service. It is very much appreciated. Regards,
Mark, Gibsonia - PA
Hello Manuela & Tiziana, Everything arrived safely and I love the pottery so much it is on display in my kitchen and kitchen dining. Thank you so much for your prompt service and regular contact updates which I appreciated. Kindest Regards,
Rika, Watermans Bay Western - AUS
Dear Manuela and Tiziana, We received our order yesterday. We are very happy with everything. The Fima ceramics are beautiful. We did not expect the utensil holder but we greatly appreciate it. I am impressed the way the ceramics were packaged. My Grandfather imported Deruta ceramics to USA back in the 1920's. I have many pieces from Deruta from the 1920's. The pieces we bought from you and my Grandfathers pieces look great together in our collection. Your service and keeping in touch is extraordinary. It is a pleasure doing business with the both of you. We will be purchasing more in the near future. Sincerely,
Don & Janice, West Chicago - IL
Hi Manuela and Tiziana! The pottery arrived safe and sound and it all is Beautiful! The packing was fabulous and not a scratch or break anywhere. Thanks so much and I can't wait to have a dinner party! Gracie mille
Patrick, Walnut Creek - CA
Dear Manuela and Tiziana, Thank you. My biscotti jar arrived on Monday, just in time for my birthday! It is in excellent condition and is just what I wanted.
I appreciate the emails from you updating me on the status of my delivery. You were very helpful!
Christine, CollegeVille - PA
Dear Manuela & Tiziana, I am very pleased to inform you that the three Bottega Artigiano Rampini plates have just arrived. They are quite magnificent and they are already displayed above my sideboard. Signor and Signora Rampini are very fine artists and a credit to Italian craftsmanship and I am proud to have their excellent products alongside my other treasures. I am also very pleased dear ladies with the way you run your company thats Arte.com, a most efficient organisation that does you both great credit. It has been a pleasure to buy from you, and I look forward to my next purchases at a later date. Please accept my very best wishes,
Bari, Newport Saffron Walden - UK
I received my planters today. They are much more beautiful than I imagined. I absolutely love them. My shopping experience with thatsArte.com has been excellent. Thank you for all your timely correspondence, answering my questions and sending updates. I will definitely recommend your website.
Regina, Bakersfield - CA
Hi, I received my ceramics yesterday. I could not believe how beautiful they are. I am so happy that I finally have serving utensils that everyone will notice when I serve pasta or some other dish. Again thank you very much. A Happy customer
Mike, Satellite Beach - FL
Manuela and Tiziana, Great service, the pottery arrived today! That is impressive. I bought the jars and pot as a gift for my wife and they are lovelier than we expected. Thank you. We will probably be in touch soon for more items for our new kitchen. Best wishes and have a great New Year (or Hogmanay as we call it).
Iain, Stirling - UK
Dear Manuela and Tiziana - I am happy to confirm the teapot was arrived yesterday, very well packed and in perfect condition.
My wife and I are very pleased with both the quality and workmanship. On a trip to Umbria in 2002, we visited Deruta and have collected several pieces of ceramics from that area over the years. The new teapot is one of the nicest we've seen. With best regards,
David, Palos Verdes Estates - CA
Dear Manuela and Tiziana: I received the shipment today. Thank you so much for getting the ceramics to me before Christmas. The pieces are very good quality. The service was excellent. We will definitely order from you again. Merry Christmas and happy new year.
Steven & Patricia, San Francisco - CA
Manuela and Tiziana, We absolutely love our dishes! They are all magnificent and we can't stop looking at them. We love picking out a different plate and mug everyday. What a joy. We want to order more. Again, we are so excited and happy with our dishes. Hope you had a wonderful Christmas!
Amy and Greg, Seattle - WA
I received my order and it was wonderful… …not sure you can get a message to the artist but, would love for him to know…..I love them and I have a little piece of Italy in my home……..I have always wanted to go to Italy and maybe someday I will get to. Have a Merry Christmas!
Sherri, Oklahoma City - OK
Dear Tiziana and Manuela,
Eugenio's amphora vase haa arrived and it is gorgeous!!!!!!!! We are so happy with his beautiful vase and appreciate Eugenio adapting to the color scheme in our house. It is Perfect!! Please express to Eugenio our appreciation of his artistic talent. We will treasure this vase and enjoy it every day. I plan to place another order with him in the future. Special thanks to you for assisting in the entire process. I have taken a picture of the amphora vase in our bathroom and have forwarded it to you so you can appreciate it's beauty too. We will be delighted to recommend you to our friends who are interested in ceramic art from Italy. Thank you once again.
Daunn :) and Stan, Columbus - GA
Dear Manuela and Tiziana, I am very pleased to say the two footed fruit bowls arrived yesterday. They were well packaged and arrived in perfect condition. They are more beautiful than the pictures on the website showed so I am very happy with my purchase! Thank you very much for your help, and kind regards,
Hayley, Sydney - AUS
The box arrived Wednesday evening and I opened it last night. Wow! the new designs are so beautiful. And I see I got an extra cup and saucer! Thanks so much. Let the people at D & G know that their work is really great. So glad I could get more of their designs. It has been a pleasure to work with Thats Arte. I would be happy to recommend your store to anyone. Thank you!
Jan, San Pedro - CA
I received the order yesterday just in time. I absolutely love everything- so beautiful. I will definitely be thinking about an additional wall plate in the future. Thanks for all of your efficient help.
Jincy, Arvada - CO
Dear Manuela and Tiziana, thank you so much, the mug arrived today 20th July. Very fast delivery. It looks perfect. I will be taking it to its new home this weekend and can compare with the original then. Your service and helpfulness has been excellent all the way from my first tentative enquiry to receiving the finished product. I am delighted with your company especially as I thought it was a hopeless request.Thank you so much.Best regards,
Jan, York - UK
Hi Manuela & Tiziana. I received my shipment today. It arrived in perfect condition. The ceramics are beautiful and the quality of the ceramics are ex cellent. Thank you for the great communication. My shopping experience with you ladies was a great one and you will be hearing from me again real soon.
Zef, Bronx - NY
The four beautiful little boxes arrived yesterday. They were shipped promptly and packaged extraordinarily well. These lovely boxes are painted so delicately and so artfully! Molto grazie per questi tesori meravigliosi. Ciao,
Melanie, Port Angeles - WA

I have just received my italian pottery and I absolutely love it. It is much bigger and nicer than I imagined. I am thrilled to bits with it. I will definately be in touch again soon. Thank you so much for your help you have been an absolute pleasure to deal with. Regards,
Leanne, Sydney - AUS
Love it, thanks! Shipping, tracking, everything worked. I will order again!
Deanna, Southporth - NC
Hello! Just a note to let you know that we received the apothecary jar today. It's beautiful and my husband is thrilled. Thanks again for keeping me up to date on the status of the order, I am very grateful for all of your help.
Susan, Rowlett - TX
Manuela e Tiziana, I just received my order today. Thank you very much for your superior customer service and your rapid delivery! I sincerely look forward to doing business with you in the future. Buon Natale e Buon Capodanno.
Dan, Bayside - NY

Hello, I received the vase and wall plate in the mail yesterday. They are lovely. I can't wait until my wife opens the presents. Great packaging!!!!!.
Mike, Acton - MA
The pottery arrived safely in the US and my family there is delighted with the pieces. I haven't been able to see them myself, being here in England; but if the others are pleased then I'm sure I would be too! It was a pleasure shopping with you. You were most helpful when my bank raised difficulties, and very patient until it was all sorted out! All good wishes to you for the holiday season, and for continued success in your business.
Nancy, London - UK
My order arrived today all intact, and the plates are fantastic. Please thank Eugenio for this art work. We will have many happy meals on these plates. Your website is very truthful; they are just as I imagined. Thank you for all your assistance and speed!
Abby, Chicago - IL
Dear Manuela and Tiziana, My bowls and platters arrived yesterday. They are absolutely beautiful! Thank you and I hope December and 2010 bring many blessings for you.
Jan, Centennial - CO
I received my really beautiful "Julia Bella". It is everything I imagined and more. Thank you .
Faina, Staten Island - NY
Manuela and Tiziana, I received my order today and I want to tell you how pleased I am with the pieces. They are beautiful!!!! We were fortunate enough to visit Italy 6 months ago and seeing and handling these new pieces brought back many very good memories. They are exactly like the items we shopped for while we were there....totally authentic. I couldn't believe how fast the order arrived. The communication was above and beyond the normal for other companies. Well done ladies!!!! You have made me a repeat customer.
Carol, Marion - NC
Dear Tiziana and Manuela, The hand painted bowls arrived in perfect condition and the inscription/personalization on the bottom of each little bowl is exactly as I had envisioned. Each handpainted bowl is so beautiful--we are so grateful to you for your attention to every detail and for making our gifts to our friends so very special and personal. Thank-you for everything! With all best wishes for your health and for the holiday season ahead,
Kim, Atlanta - GA
Dear Manuela & Tiziana, We are repeat cutomers - again you have provided outstanding service, delivery, quality products and beautiful art. The new rectangle platter matches perfectly with our other pieces of this same design. You are a pleasure to do business - look forward to doing business with you again in the future. Regards,
Joseph, North Reading - MA
Manuela & Tiziana: communication and services were excellent.....person receiving the pottery was greatly pleased with the beauty and personalization ...Thank you,
Patricia, Oswego - IL
Hi Manuela, I hope this note finds you well. There was a delay in Philadelphia, so I just received my ceramics on Friday. Both pieces are beautiful -- even better than the web representations -- and we are very happy with them. The colors are vibrant, and the workmanship, excellent. I wish I had more room in my house, so I could order more of them. The entire experience was great, including customer service. Thank you for being so accommodating and patient. I look forward to purchasing from That's Arte again; perhaps, it will be my one-stop Christmas shopping site. Be well.
Patti, Spriengfield - VA
We love them. The covers are very large - my only fear is breakage, but they are just beautiful and everyone thinks so! They made it in 8 pieces just the way they should! Thank you for taking such great care of the shipment and order for us! Have a great day when you get this.
Nina, Washington - DC
Just opened the order--and am delighted with every piece, color and quality. They are even lovelier than the photos showed. You have been most efficient in acknowledging orders, notifying me of shipping, and most of all, giving accurate time of arrival! They were packed very well. I highly recommend your company. Will be ordering again from you. P.S. My husband was Italian, so have looked for years for Italian pottery; this is the first time I was enthused.
Penny, Versailles - KY
Dear Manuela and Tiziana, The pitcher arrived in great shape and my Mom loves it! Thank you very much!
Ken, Tampa - FL
Manuela & Tiziana, The last shipment arrived, and the ceramics are just as beautiful as our other orders. Thank you for your friendly efficient help. We will continue to appreciate the wonderful Italian craftmanship and artistry each time we use our beautiful dinnerware. I will especially continue to use and enjoy the biscotti jar and it's contents!
Bill, Weaverville - CA
I received my pottery today and it is very beautiful! Thank you so much for the professional, curteous and efficient service. I will definitely be buying from you in the future. Everything arrived in perfect shape and right on schedule. Thanks again,
Claudia, Fairfield - IA
On a trip to Sicily my wife and I noticed some tiles at a hotel in Trapani featuring a motif of various animals which we fell in love with. After some investigation, we learned that the tiles had been produced by Giacomo Alessi, a famous ceramicist in Caltagirone, in central Sicily. Mr. Alessi did not have a website but we learned that thatsArte.com carried some of his works. We contacted thatsArte.com and were helped by Tiziana Manzetti, one of the company's co-owners. I initially thought it would be a difficult and time-consuming exercise to order the tiles we were after and have them shipped to San Francisco from Sicily. However, Tiziana sprang into action and worked closely with us to identify the tiles, coordinate with Mr. Alessi, process the order and arrange the shipping. She was extremely responsive. Once the order had been processed the tiles arrived in San Francisco within a week. They had been very carefully packed and came through in perfect condition. It was a pleasure to work with Tiziana and thatsArte.com and I would highly recommend their services.
Michael, San Francisco - CA
Thank you very much for your assistance with the Italian pottery. The shipment arrived safely and at the time you told us it would arrive. Eventhough the original pieces were purchased some time ago the new pieces were a good match. I found your site on line when trying to find a match for the pottery. You made the ordering process very easy for me and I appreciate your assistance. I will be sure to contact you if additional pieces are needed. Thanks again,
Susan, Laconia - NH
I received my piece and it is beautiful...Thank you. Sincerely,
Laura, Paradise Valley - AZ
Manuela & Tiziana. I received the shipment. It arrived in perfect condition. Thank you for your assistance.
Gary, Austin - TX
Manuela & Tiziana, I am thrilled with my new dinnerware. They are absolutely beautiful! I am so glad I found your website. It was exactly what I was looking for. Thank you,
Donna, Collerville - TN
Ladies, I just wanted to say thank you for your participation in my orders. They arrived at my workplace on December 17th. in one box as I hoped they would be. They look even better in hand than they do on your website. I enjoy browsing your website and seeing all of the beautiful items. If only I had lots of money! My compliments to Senior Ricciarelli. His work is magnificent. Hopefully this is not my last contact with you. As I said above, I enjoy browsing your website. And I am confident that I will find other things there that interest me. Meanwhile, I wish you the happiest of holiday seasons. Cordially,
Louis, Philadelphia - PA
Manuela and Tiziana, The order just arrived, and the ceramics are as beautiful as I had hoped. Thank you for the expedited delivery. I plan to do additional business with your company in the future.
Bill, Weaverville - CA
Hello Manuela and Tiziana, In the mail today we received the six salad plates we had ordered not too long ago. They look perfect with six pasta bowls we already had purchased. We are thrilled with the plates, and they arrived in perfect condition much faster than we could have expected. The name printed on the back is an added bonus that we really like. Thank you for such lovely plates, and for the great service and communication all along the way. Sincerely,
Barbara, Chester - NJ
Dear Manuela and Tiziana, Today I received the ceramic pieces and I am delighted with them. Not only were the packaging and shipment done with obvious care, but the pieces themselves are truly beautiful. I will be very happy to give these unique items as Christmas gifts to my family. Kind regards and happy holidays,
Jennifer, Ada - MI
Dear Manuela and Tiziana, The Rampini butter dish arrived today in perfect condition. As with previous Rampini orders (directly from the factory in Gubbio) the packaging was superb. I know my daughter will love the replacement for her broken butter dish. I appreciate your care in processing this order. Good wishes for a happy holiday season.
Julia, Orinda - CA
Hi Manuela & Tiziana, I received my tile yesterday and it came in perfect condition. Thanks again for all your help in placing my order. The minor set back of the chipped tile sent in the mail was no hassle in getting it replaced. The only thing I can think of that would be better than shopping with you, is to fly to Italy and shop there! But that's not always possible. So Thank you again, it has been a pleasure. I'm looking forward to future shopping experiences with you.
Lyla, Ipswich - SD
Hello Tiziana and Manuela, The plates arrived safely on Wednesday; your packing job was fantastic. I must admit, the photos on the website really don't reflect the true artistry of the pieces. After examining them in hand, they are more than I had hoped for. Sandi will be quite surprised on Christmas! Thank you for helping me bring a little bit of this art into our home as a reminder of travels to come. Best regards,
John, Portland - OR
Dear Tiziana and Manuela, Just to let you know that the swag arrived in perfect condition and in record time. I couldn't be more pleased with the piece and your efficient, warm service. It was a pleasure to talk with you on the phone and your handling of the purchase made this a memorable experience for me. Until we do business again, Merry Christmas and Buon Natale. Most sincerely,
Ami, Venice - CA
Hi Tiziana and Manuela,
Received the piece very very quickly. I like the piece very much. Our communication was good - there was only one time that I was concerned - but you straightened it out eventually - (I didn't hear from you for quite awhile after I placed my complicated order - so I was concerned either you didn't get it or my request was not possible) - so all in all it was a good experience. ;-) Best regards to you,
Jane, Grand Forks - ND
Dear Manuela and Tiziana, I wanted to let you know that the shipment arrived last week in perfect condition. It came so quickly that I never even had a chance to check the tracking. Too bad about Giovanni's kiln, glad he got it fixed. Please let him know that I love the pieces and his talent is great. My husband loves the coffee mugs, especially. Just the right size. It may be another month before I can order more, but I will (if there is no financial depression!).Thank you,
Jan, San Pedro - CA
Dear Manuela and Tiziana, I received my order today in perfect condition. I am very pleased with my two cups and their matching saucers. I was surprised, however, at how big they were. Pictures can be deceiving! I don't recall if dimensions were given on the website, but I never thought to look for them. No matter, I will enjoy these beautiful pieces. As for service and communication, I've been pleased. It was very helpful to have your updates as to when I could expect to receive my order. Grazie,
Alice, Albany - CA
Dear Tiziana & Manuela, My order has arrived safely!!! I have just collected it from my father's home and they arrived in perfect condition - I love them!! The packaging was exceptional and very, very secure for their trip all the way around the world to Australia!!! They were so firmly packed with all that padding there would have been no chance of damage I feel sure - you obviously have a very good shipping process in place!! Please thank your artist, Rampini, his work is so beautiful and I hope in the future it will be possible to add to my collection, I am very pleased and thank you all for making this possible from your end. Each piece will bring much enjoyment as it is displayed in our home. My best wishes to you all,
Gerry, Melbourne - AUS
I have received the utensil holders and they are wonderful. We love everything that you've sent us... so much variety and such beauty. They will be some of the nicest gifts that I have ever been able to give my family and friend during the holidays, except for the few things that we kept for ourselves :).
Thank you for being so responsive to all of my inquiries along the way. Sincerely,
Barry, San Francisco - CA
We received our ceramic plate yesterday. My wife is thrilled. She had me hang it over our cooktop last night. Beautiful work, very well packaged and just as described. Commmunications from the start were exceptional - you answered all our questions and our special requests - we received our tracking number and new exactly when the plate would be delivered. Thanks you for the great product and service - would highly recommend you to our friends and family - we are already looking at additional purchases. Regards...
Joseph, North Reading - MA
Hi Manuela and Tiziana, I received my order and everything is BEAUTIFUL!!! Thanks so much and I'll be ordering from you again soon!! Thanks again,
Kelsie, Orlando - FL
Manuela & Tizana, Received the "Julia Bella" wall plate on Monday, it was in perfect shape and my wife loves it. Very pleased with working with you on this internet purchase and look forward to future purchases. Cathy and I were in Italy this past May and have a very enjoyable visit and look forward to our next trip to Europe.Thanks again
Don and Cathy, Lakewood - CO
Hello Manuela and Tiziana. The ceramic boxes are both gorgeous. I really like them. Your service and communication was outstanding, I would happily order more pieces from you. And the packaging was fantastic…it took me a bit to undo it but you packed it so well, everything was intact. I know that is a major feat since I have had pieces of Deruta ceramics shipped to me before from Italy and was sad when one of the pieces arrived broken. Thanks again,
Colleen, Palo Alto - CA
Thank you so much! My mother loves the pottery!
Catherine, New York - NY
The decorative plate was delivered and the recipient was delighted…as I fully expected she would be. Thank you.
Barbara, Napa - CA
Hello Manuela and Tiziana. I have now received the plate & it's beautiful. No complaints about anything. Everything done very professionally & efficiently. Keep up the good work
Lorayne, Ottawa - Canada
Thank you! The order was beautiful... The only thing I would recommend is enhancing your website with more pictures. It was difficult to take a chance without seeing the actual picture of what the pieces would look like.
Kristy, Huntington - NY
Dear Manuela and Tiziana, Everything about my experience with your company was perfect. Thank you so much for letting me know when my piece would be shipped. It arrived even before you expected it to, and I appreciate you letting me know exactly when to expect it. The vase is beautiful. We love it and will order from thatsArte.com again. Your selection is phenomenal. Thank you!
Donna, Elizabethtown - KY
I am a dedicated shopper of fine Italian ceramics and received my Rampini ceramic bowls today-beautiful! I travel to Italy every year and have collected many ceramics from Gubbio and Deruta, somehow missing Rampini's wonderful ceramics! I appreciate all of the individual attention the artists give to each ceramic piece and the history behind the ceramics they create. I really like selecting ceramics from your website because I can match the ceramics you carry to those I have already collected. It is difficult to recall variations of color from pieces at home when traveling to another country so having the benefit of shopping on line makes it so much easier. Thank you.
Lynn, San Diego - CA
Dear Manuela and Tiziana, My beautiful plates arrived today in perfect condition! Thank you so much for your excellent service. It was a pleasure doing business with you. Thanks again.
Vicki, Sherman Oaks - CA
Dear Manuela and Tiziana, I received the order today for the Bella pot and I was very pleased with it. It is a beautiful piece. Furthermore, your service and communications were very helpful. Sincerely,
JoAnne, Dayton - OH
Good Morning, Ladies: The spoons arrived in perfect condition, I've never seen anything wrapped so well. I felt like an archeologist getting to them. Both are beautiful, one is on my kitchen island, the other is part of a wedding gift for my son and his fiancée. Also, ladies, your service was top-notch. I will order from you again. Many thanks.
Al, Sammamish - WA
Hello, Manuela & Tiziana. I want to let you know that all of my Italian ceramic pieces arrived today, safely and on the time expected.
Being part Sicilian, and living in Sicily for several week each year, I have a fine collection of ceramics from all over Italy (as well as other parts of the world). The items I purchased from Thatsarte.com are among some of the most exquisite, and finely crafted. Your artists are very gifted, making beautiful works of art will enhance any meal or morning cup of expresso.
While your website pictures are very accurrate, the actual bowls and cups are even more rich in color and finely painted than their online images present.
Your both have been great to work with, and your customer service is excellent and customized. All communication has been promote, personal, and customer-oriented.
Charles, Sebastopol - CA
Thank you very much. The canisters arrived safe and sound on Friday. They are as beautiful as the first canister was. I am very proud to have them displayed in my wife's kitchen. She is very delighted and there are no other canisters on the market that compare to those we purchased from you made by your artisans.
Again, I can't thank you enough. One day, my wife and I hope we can visit Italy which is the home of my ancestors. For now, it is very nice to have something on display that represents the fine art and detail of the local craftsmen there.
John P, Eugene - OR
Thanks for your follow up. The items are wonderful. They were packed well and shipped exactly as committed. Couldn't ask for better customer service. I will be ordering many other pieces from you. Regards,
Patricia, Aurora - CO
Manuela and Tiziana, I received my order yesterday and it is simply beautiful! Thank you so much for all your attention to my order and the trouble you took in calling me directly. It arrived safely and promptly. I wanted to let you know how much fun I had shopping online for the perfect pattern and color for my kitchen. I noticed that there were many similar patterns repeated on all the sites. But when I got to your site I found some really extraordinary patterns that I did not see elsewhere. Reading the story of your company was so much fun. You are certainly blessed with an incredible job! I too would love to travel across Italy and look for the most exquisite designs! Thanks again so much! Enjoy your business!
Barbara, Oceanside - CA
I love the canister but more importantly, my wife loves it. The quality of communication and services was impeccable. I have not found better quality and service in all of my research for pottery of this kind. I was very please with my purchase and very proud to own what I consider art from the country of my ancestors. I would highly recommend you to anyone at anytime.
John P, Eugene - OR
The 6 bread plates arrived safely, well-packed. They are beautiful and I know we will enjoy using them with our other Italian ceramics when we entertain.
Jeanette, Pittsburgh - PA
Dear Manuela & Tiziana, The Paradisea has arrived in Washington intact. I'm amazed by the speediness of your service. I haven't seen the piece yet and won't until mid-April, but I'm very much anticipating my pleasure in it. As you know, I love Alessi's pieces and would be delighted to see any new additions. It's been a pleasure doing business with you, and I hope this is the first of many opportunities. Thank you so much.
Dorothy, Washington - DC
Manuela and Tiziana, My dinnerware arrived today and it is absolutely beautiful. Each piece arrived in perfect condition and they are exquisite! What a wonderful birthday gift and I know I will be placing many more birthday orders with you. Thank you for your wonderful service. I am so glad I was brave enough to order my plates from you!
Jan, Denver - CO
Hi Tiziana and Manuela, My tea pot and the espresso pot arrived today. They are exquisite, the quality is super to the very last details. I love both of these items. Not only the great quality that I have received but the service in which you both provide are exceptional. From the time I expressed my interests in the tea pot, and the espresso pot to the order process, and shipping have been very smoothly. Thank you very much. I am looking forward to do business again with both of you. You've made the Internet shopping trustworthy and comfortable for me. Once again, thank you.
Nathan, Seattle - WA
The service was great. The plate arrived and I am very happy with it. Thank you,
Barbara, Freeland - WA
Manuela & Tiziana, We love the biscotti jar! It looks lovely in our kitchen next to a plate we purchased while in San Gimignano. Thank you for your prompt service. I had purchased the jar as a gift for my husband and you did not disappoint in getting it to me on time. Thank you.
Charity, St. Charles - IL
Hi Manuela & Tiziana, I love my new dinnerware. Your web site and customer service are both excellent. I will probably be ordering more soon. It is really beautiful. Thank you,
Tom, Coronado - CA
Thank you for keeping me informed on the progress of my order, it arrived on the 15th as scheduled. The plate is absolutely beautiful. It has a wonderful finish that glistens with rainbow refractions atop the navy and cream decorations. This has been a great experience and I will be sure to tell everyone that I know about your shop. Sincerely,
Jennifer, Falls Church - VA
Dear Manuela and Tiziana, our Eugenio piece arrived safe and sound on Friday - it's as beautiful as we expected. We were delighted with the speed in which we received (we placed the order on the previous Sunday!), the communication from you after we placed our order, and the careful packaging. Regards,
Trillium, Madison - WI

I received the order today. The ceramics are beautiful. Great buying experience. Thank you.
Curtis, Miami - FL
Thank you, thank you, thank you for my beautiful pottery. I was so pleased with the quality of the pieces that I sat right down to make a list of the additional pieces I want to buy. I was in Italy last year and purchased a beautiful cheese shaker. It was my favorite souvenir from the trip. When I got home to the US, I went online to find another, and was skeptical as to whether you could produce one just as nice as my souvenir. You did. It was from the same family and has the same detailed craftsmanship as the one I found in Italy. I'm thrilled and will certainly be buying again from your website. Sincerely,
Cheryl, Miami - FL
I was very satisfied with your service and I love the bowl. Thanks.
Lynne, Sacramento - CA
Dear Manuela and Tiziana, The Italian pottery arrived at my daughter-in-law's home on Christmas Eve which was outstanding because she then opened it in front of us on Christmas Day. The pieces are lovely, excellent craftmanship, and completely intact. Your service (including the email communications) was superb. I will order more products from you in the future. Thank you.
Marsha, Brighton - MI
Your customer service was really great - friendly, informative and prompt. I'm looking forward to doing business with you again. Viva Italia! May 2008 bring you continued prosperity. Sincerely,
Annie, Chicago - IL
Dear Manuela & Tiziana: Your ceramics arrived safely and are exquisite. My wife loves them dearly. The workmanship is as good as I could find anywhere, and your service and shipping was great. I can't thank you enough. I hope you had wonderful holidays, and again thank you for everything. Regards,
Jerry, Brick - NJ
Manuela and Tiziana, I wanted to let you know that I am very pleased with my shopping experience at ThatsArte. The quality of the ceramics is excellent. I am very grateful that I received the bowls in time for my holiday party and my friends thought they were lovely. I think you do a great job of communicating with your customers and I will do business with you again in the future. Many thanks and have a Healthy and Happy New Year. Best regards,
Leslie, Chatman - NJ
Dear Tiziana and Manuela, We wanted to write you to let you know that the bowls arrived today, and they are absolutely beautiful! Just what we wanted!
Thanks for everything. I'm sure we'll be in touch again when we embark on our next project! With warmest regards and best wishes for a wonderful holiday season,
Josephine, Chantilly - VA
I did receive the plate on Wednesday afternoon. The plate is beautiful. Thank you very much for replacing it and for expediting the shipping to me, so I could send it off to my Mother for her Christmas Present. Also thank you for the phone call on Sunday, I appreciated your efforts to straighten out the problem, you guys were great. Sincerely,
Dena, Danville - CA
Dearest Manuela & Tiziana, Thank you so very, very, very much for EVERYTHING!!!! My wonderful, perfect & beautiful hand crafted, hand painted fine Italian dinnerware has arrived home... I am overwhelmed by the perfect beauty of these precious works of art. I love you ladies very, very much & I truly do wish you & yours a very merry Christmas, A wonderful & prosperous New Year, a long, happy & healthy life for years & years to come. This I say from my heart. I love you all.. Thank you.....
Danielle Annmarie, S. Francisco - CA
Manuela & Tiziana, Yesterday I received my order, and I wanted to let you know that I couldn't be happier with the quality of the items I ordered and the entire experience of shopping with you. The pieces I received were even more impressive in person than I could have hoped for. The order was on time, and I received emails giving me updates through the whole process. The packing was so secure that there was no chance for any damage to occur to the contents. I also want to compliment you on your website. I looked at quite a few sites before ordering, and I saw no other sites that compared either in thoroughness or selection - I wanted to buy everything. Merry Christmas and continued success in the new year.
Tom, East Haven - CT
Dear Manuela and Tiziana, your web site is a delight. The information on the artists and the region of Italy they come from is fascinating and informative. It is like shopping in a small store with helpful people. I found the communication to be very thorough and personal. The packaging was impressive. It was almost as much of a work of art as the ceramics. I am thrilled with my purchase, the condition they arrived in, and all the help and updates I received. The entire experience was a happy one, and I plan to order again soon. Thank you for all your expertise,
Patsy, Pasadena - CA
Thanks so much. I got my ceramics, and they are so beautiful! I enjoyed having such prompt communication with you. Every time I got worried you were there to let me know where the package was, and when it would get here. I will buy from you again. Thanks.
Kimberly, Oakland - CA
Dear Manuela & Tiziana, I received my pots and I LOVE them! They are absolutely gorgeous and I am thrilled. They are exactly as they appeared on your web site. The colors, the size and the quality are perfect. I found your web site to be very efficient and extremely user friendly. I was also very pleased with the service I received after I placed my order. You kept me well informed about the status of my order throughout the process right up until I received my packages. I will definitely will be a return customer and tell my friends about your products! Thank you very much,
Abby, Phoenix - AZ
The mugs are so beautiful! I was happily surprised at the detail and color. I just wish they would have arrived sooner. Thank you!
Catherine, New York - NY
I want to thank you for helping us order, and receive in time, our beautiful Peacock Platter. I appreciate that you went out of your way to contact the artist and ask for a rush. The platter is so much more than we expected and your service is excellent. We look forward to working with you again next year.
Marianne , Orlando - FL