GHENOS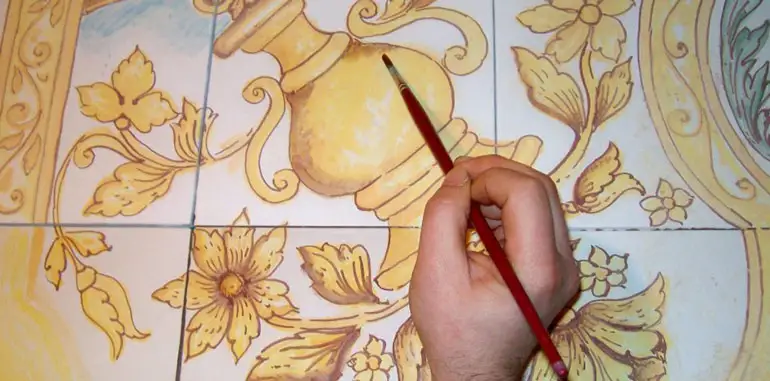 Ghenos hand-painted Sicilian tile panels, backsplashes, floors, and wall tiles are authentic accents of beauty.
Ghenos is a small artisan studio with an excellent reputation: their amazing works decorate villas floors, swimming pools, and backsplashes in many parts of the world (Capri, New Orleans, Taormina to mention but the latest destinations).

Inspired by traditional Sicilian pottery, Ghenos designs are elaborate, rich in details and color shades.
Personalized and bespoke projects are welcome.
Browse Ghenos sumptuously decorated tile panels, perfect for:
- backsplashes & stovetops AGA
- tabletops, on a solid wooden or wrought iron base
- wall accents, framed and hung on the wall or installed as free-standing murals
- floor panels, beautiful "tiled rugs" inlaid in hardwoods, or installed with field tiles (e.g. in front of a cozy fireplace)
- stair risers

Ivan and Vincenzo Scardino are two young brothers from Messina, Sicily. Both have a knack for arts and crafts, Vincenzo being more into pottery making and Ivan loving his carpenter job. They have joined effort and started to create objects where wood and ceramics are originally combined, often in the sizes and shapes requested by interior designers or architects.

In 2003 they founded their own studio and decided to call it Ghenos, a Greek word meaning origins.
Indeed, a deep knowledge of traditional Sicilian art is at the heart of their craftsmanship and each and every work they make is a personal rendering of designs and technique belonging to their native land.

We were particularly impressed by their tiles and panels. Nowhere else in Italy one can find such rich designs. Every brush stroke there evokes Sicily. You watch them and you see the huge ballrooms of antique villas, their Baroque statues, the air thick with the smell of orange blossoms…

Vincenzo studied many years to learn the secrets of Sicilian pottery, first in Messina, then in Reggio Calabria and Santo Stefano di Camastra. He is an excellent painter, not surprisingly favoring Baroque designs, istoriati and "metamorphosis", subjects where human shapes blend into animal or vegetal shapes.

Recently the Uffizi Gallery in Florence commissioned him a large istoriato urn. Not a bad start for a young artist, isn't it?