Free Personalization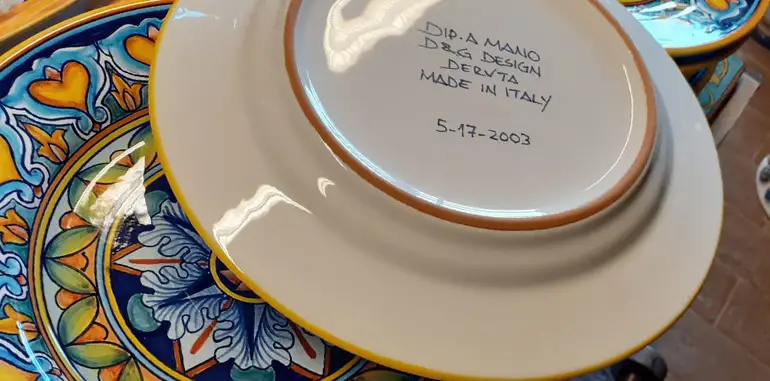 Buying a handcrafted Italian piece is an investment in beauty, be it a stylish pewter bowl or a ceramic dinnerware set. Whichever item you choose, it'll add a personal touch to your home or make a wonderful gift.

But you can get even more than that at thatsArte.com – you can have your piece personalized for you, totally free of charge!
Before adding your items to the cart, type a short text in the relevant box. It can be your name, your initials, a special date, or a short message. We'll pass your personalization text on to the artists, who will be happy to make your pieces truly unique.
Personalize your ceramics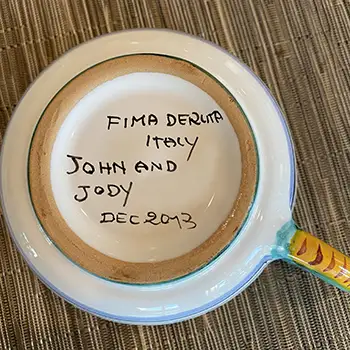 The text is usually hand-painted on the bottom of the pieces, alongside their own signature, to avoid compromising the artistic integrity of the pattern design while adding value to your purchase.


Personalizing your pottery is easy. Just follow these steps:
type in your text in the relevant space on the product page. To ensure readability, it should be 4-5 words maximum (40 characters are available);
click save and add the item to your cart.
Personalize a large number of pieces
Are you buying more than one of the same item and you do not wish to personalize them all in the same way?
add just one personalization text;
place your order;
contact us with a complete list of the texts you'd like to have hand-painted under your items. We'll be happy to personalize each item in a different way.
What you need to know about personalization
At this time we are unable to reproduce foreign characters - please enter only those that appear standard on the American and European keyboards.

Please remember that once you decide to personalize your item, your order will be final and non-revokable. Your credit card will be charged right away.

The product cannot be returned to us unless damaged in shipping or incorrect. See our Return Policy for more details.