D&G DESIGN
A formidable duo of ceramic artists in Deruta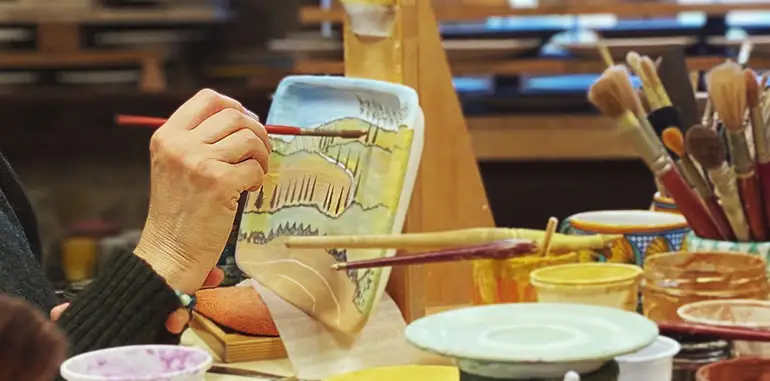 Demet and Giovanni, aka D&G Design, are two talented artists breathing new life into Deruta pottery. Their work exudes vitality and imagination, parading the duo's excellent technical skills and vivid color palette.
D&G moved from Turkey to Deruta in their twenties. Slowly but surely, they found their unique voice. Their art bridges generations and traditions by seamlessly blending Deruta ceramic motifs, their Turkish heritage, and contemporary subjects.
We have carefully selected D&G's best works of art for you: vibrant geometric collections, nature-inspired dinnerware, colorful plates reminiscent of the artists' Turkish origins (perfect for mixing and matching) and lovely home decor accents.
What's not to love about D&G's pottery?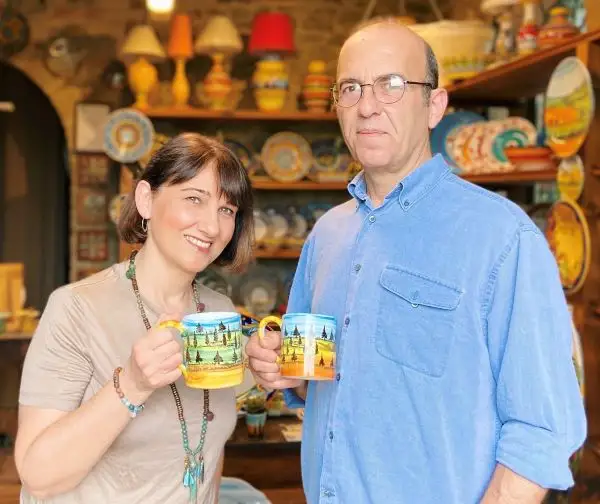 D&G - Demet and Giovanni - are a formidable artist duo and two incredibly warm-hearted people. We met them over 15 years ago, introduced by a common friend who raved about their work. We cannot thank him enough!
Their vibrant, elaborate geometric designs burst with vital energy. The Millerighe collection is a masterpiece of creativity and hard-won technical prowess. Their more recent tableware, Flora, evokes the Mediterranean spirit and zest for life with strong, uncompromising colors and stylized, tulip-like flowers.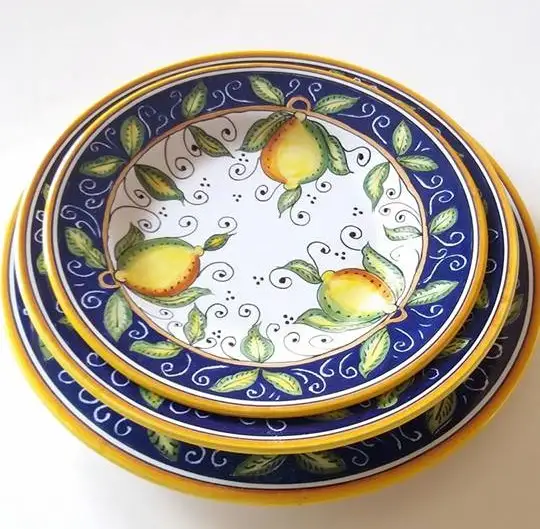 Giovanni arrived in Deruta as a young man. He had been making ceramics since childhood and was keen to test his talents in the capital city of Italian pottery. He honed his skills at Franco Mari's bottega d'arte - a celebrated artist's den - where he met Eugenio Ricciarelli. The older artist took Giovanni under his wing, encouraging him to create his own designs and experiment with glazes.
Demet joined Giovanni soon after her graduation in Interior Design, her head full of ideas for new ceramic styles.
Giovanni and Demet eventually set up their art studio in Deruta. They work together at the opposite ends of a table laden with glazes and brushes, listening to good music.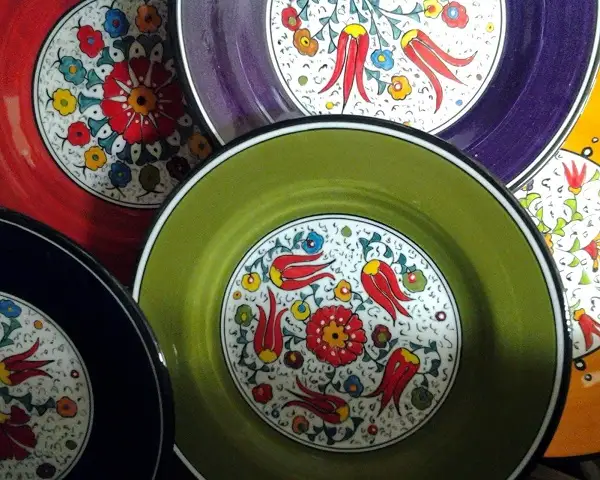 Their different personalities emerge in some of their designs - Umbria is Demet's brainchild, Millerighe is Giovanni's. However, they mostly create together, ultimately proving that collaboration can be the key to making great art.
Most of their pottery is completely freehand painted, which is relatively uncommon among artists specializing in tableware.
Allow for a long lead time when ordering their pottery. Giovanni and Demet are behind each and every piece that leaves their studio. Beauty takes time!