FRANCESCA NICCACCI
Award-winning art ceramics from Deruta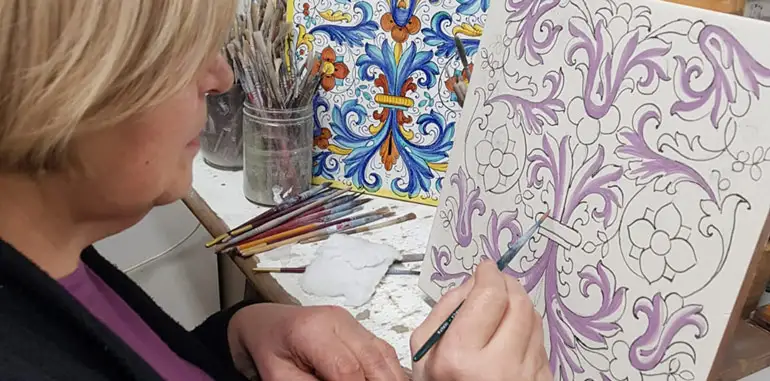 Francesca Niccacci is an internationally renowned ceramic artist living and working in Deruta, Italy. Her signature Renaissance-style portraits have a museum quality and have earned her awards and recognition. Her elaborate geometric phantasies are very different but no less spectacular.
Whatever the style or the form, Francesca Niccacci consistently achieves the most striking results driven by indisputable talent, experience, knowledge of ceramic history, and enthusiasm. Choose from our selection, or contact us to commission your dream work of art.
Discover our curated collection of Francesca Niccacci's work and bring Italian ceramic art to your home: sumptuous wall plates with fine portraits or historical scenes, urns, planters, geometric tiles, tableware and home decor accents.
Reinventing Italian Renaissance Ceramics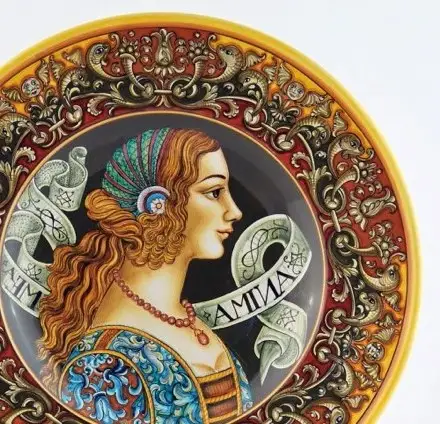 Francesca Niccacci has a special place in the history and tradition of Deruta art ceramics.
Her signature portrait wall plates draw from fine art and Renaissance paintings and are prized collectors' pieces. Her geometric patterns, hand-painted by the artist on home decor accents and tiles, are triumphant and bold combinations of everything beautiful made in Deruta in the past seven centuries.
No matter how intricate and rich in details, Francesca's art is blessed by internal harmony and coherence achieved with experience and talent.
All her pieces start with a long research and learning process, nurtured by books, exhibitions, and museum visits. She firmly believes that it's impossible to create without prior knowledge. As her daughter, Iva, puts it, Francesca paints with her head before touching her brushes!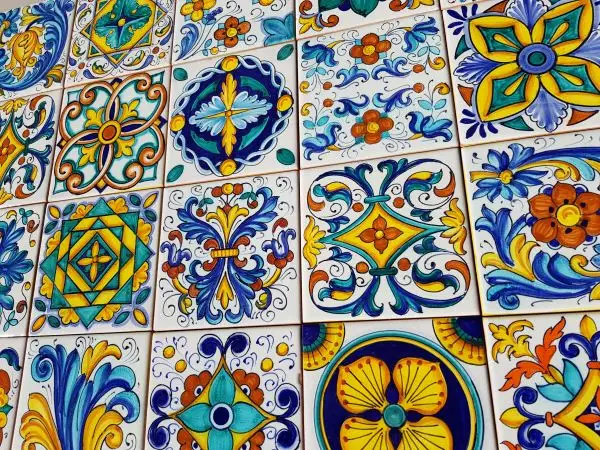 We have been working with Francesca Niccacci for many years and are very fond of her. She is shy and does not like the attention that comes with notoriety. However, she does enjoy talking about her work, her restless hands touching her ceramics as if finding comfort in her bond with them.
Unlike many established artists in Deruta, Francesca does not come from a family of ceramicists. She argues that a fresh start helped her choose her artistic path without constraints.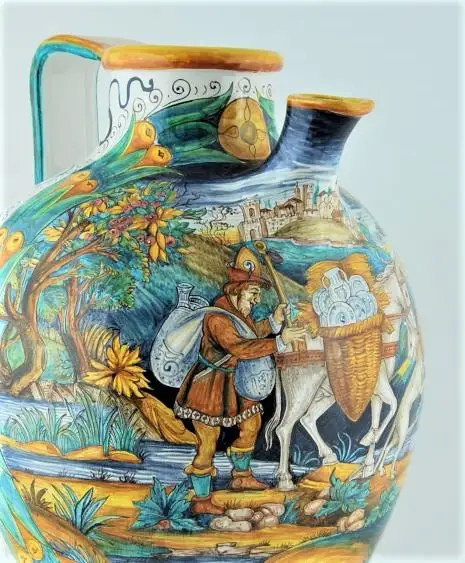 After her degree from the Academy of Fine Arts in Perugia, she became an art teacher. She did not stop studying, though, keen to research the influence of Italian Renaissance paintings on Deruta pottery and the styles and techniques that had made local ceramics famous worldwide. These studies had a profound impact on her future work.
When she realized that her job as a teacher did not leave her enough time for her art, she quit. Encouraged by her husband Amilcare, she set up a studio on the outskirts of Deruta in 1975. Amilcare fostered her career as an artist, represented her and took upon himself most of the heavy-duty tasks of ceramic making - stocking up materials, loading and unloading the kiln, packing, shipping - so that his wife could concentrate only on creating.
Their daughter, Iva, grew up in the studio - literally. She followed in her mother's steps - a teacher and contemporary ceramic artist herself - and has replaced her father as the studio manager. Stay tuned to hear more about the talentful Niccaccis.