COLTELLERIE BERTI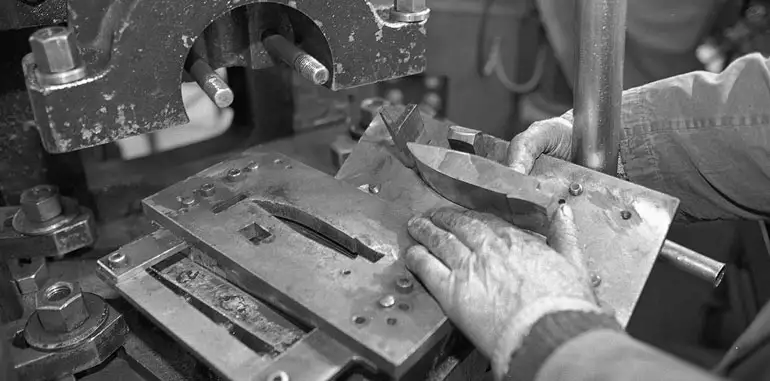 Handmade for people who demand the very best, Berti's knives epitomize the unique qualities of the brand "Made in Italy": first-rate quality, artistry, tradition, and history.
Handmade in the family workshop in Scarperia, a charming village north of Florence, Berti's cutlery is 100% Italian. The production is very limited as the knives are made totally by hand by a dozen skilled craftsmen using methods that are centuries old.

Each knife is hand made by a single artisan, from start to finish, in more than 50 different steps and the initials of the actual knife maker are impressed on the blade along with Berti's signature. The uniqueness of this process, no division of labor, contributes very much to the uniqueness of the result: in each knife, you can appreciate the perfection, the amazing attention of every detail, the character, and the "soul" of the man or woman who made it.
As it must be, the razor-sharp blades make the whole difference in a knife. The unparalleled cutting edge of Berti's cutlery is achieved with three consecutive manual processes that no machine can match.

Professional chefs and "home chefs" who are lucky enough to own a Berti knife agree that there is nothing quite like it – no turning back indeed.

Andrea Berti, currently running the Coltellerie Berti, is the fourth generation of a family who has been making knives for more than a century. The tale of this wonderful Italian company began more than a century ago in 1895 when David Berti opened a small knife making workshop in Scarperia, a charming little village perched on a Tuscan hill north of Florence that is very well known for its cutlery. David had done a long period of apprenticeship and was very talented. He handcrafted mostly "mozzette", knives used to cut Tuscan cigars. At the time the use of knives was not limited to food preparation. On the contrary, a large variety of knives existed that were used for protection and for all kinds of manual works.

The production of knives in David's workshop followed a simple, rigid rule: every single piece of a knife had to be made by hand using the methods that the tradition had forged.
First-rate quality steel, ox horn, buffalo horn, bone, and boxwood were made available to Berti's skilled artisans who made only one knife at a time, from start to finish.
David's son Severino, followed by his grandson Alvaro and his great-grandson Andrea found no good reason to abandon this golden rule, aware that the value, the integrity and the authenticity of their cutlery would never be matched by the industrial production.

However important the faith in a production process that has remained virtually unchanged for more than a century, it is the unparalleled quality that this craftsmanship delivers that has built Berti's reputation all around the world. In other words, the brand Ferrari is not famous for its good looks, or not only, but for its superior performance. The same is true for Berti's blades.
From the selection of the steel, through its tempering, to its sharpening Berti's artisans use their talents, their skills, and their (state-of-the–art) tools to make razor-sharp blades, whose cutting performance is able to bring a smile of the face of the most demanding professionals.

So, if you decide to purchase a Berti knife, you may want to know that you are shopping for a perfect cutting tool, handmade by a single craftsman in more than 50 steps, using age-old methods to deliver a top-quality product that is absolutely unique and made to last.

Andrea Berti believes firmly that there will always be people who understand the value of craftsmanship and its contribution to their life. He says: "in quick-changing times we all need something authentic, that has its source in our past and in the history of our family, that we know has not changed for a long time and will never actually change. We cannot live without traditions". Nor can we live without Berti's knives, then!

More about Berti's steak knives and kitchen knives
Coltellerie Berti handcrafts a large choice of quality knives: steak knives, kitchen knives, specialty knives, and pocket knives from the Italian tradition. Even though each knife has been designed and created for a specific task, they all share a number of common elements: premium quality materials, valuable know-how and unparalleled craftsmanship.

Berti's knife blades
Berti's knife blades are made of high carbon stainless steel, enriched with molybdenum and vanadium, for a premium cutting performance and improved durability. The small grain size of this particular stainless steel enhances the strength of the knife blades and makes them stay sharp for a long time.
Both the stamped and the forged blade goes through three hand processes that model the geometry of the edge to produce a far superior cutting blade.

Berti's knife handles
Boxwood, ox horns, ebony … precious and inimitable natural materials that the artisans at Berti's turn into awesome knife handles for the happy few who accept no compromise when it comes to traditional luxury.
The drawback is that natural materials require extra care and they do not always age well.
That is the reason why most Customers opt for Berti's Lucite and Cornotech handles.
Lucite and Cornotech are special acrylic materials, known as PMMA, that are processed and hand modeled by Berti into great looking, high performance handles. Berti's plastic handles age very well, keep their shine and their original color for many years and are dishwasher safe, although we always recommend washing quality knives by hand (view knives use and care)