GIACOMO ALESSI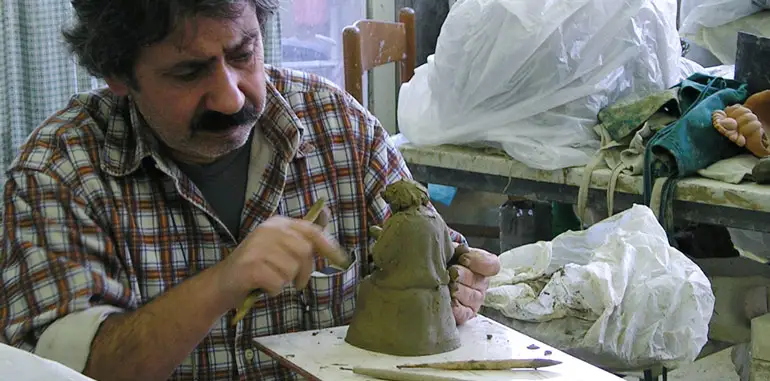 Buying a piece hand made and painted by Giacomo is taking home a poem.
Those who keep their minds and their hearts wide open will hear Sicilian legends, Greek myths, modern satire, learned quotations and hilarious stories. All this will come in pure art language.

Meeting Giacomo is a sensorial experience: his hands modelling ceramics, his incessant, passionate talking about Art, the warmth of his colours, the vitality of his shapes, the smell of the citrus coming from the open windows.
Days are too short for him. He gets up in the middle of the night to study and learn, then he goes to his studio, where intellectual knowledge and fantasy inspire his hands shaping clay.
Through his ceramics he tells us about myths, wars, poetry, legends, Sicilian traditions and mottos, human virtues, vices and hypocrisy, magic and apothecary art, religion and peace. All his pieces have a story behind, interpreted with wondering eyes or, more often, with the provoking attitude of a naughty boy.

About his artistic background he says: "I didn't have any instructors. I learned by myself and my independence allowed me to look 'beyond'. I love tradition but I'm not traditional. I translate tradition into something new. I searched, gathered and re-invented the Baroque heritage in my own way. It makes my fantasy fly until everything becomes movement, human and animal spirit". And, we dare add, very recognizable.

Giacomo Alessi's shop in Caltagirone is right at the bottom of the renowned stairs. Here you can read the history of Sicily through his ceramic collections: archaic, Aragonese, 17th century …,
His production is wide and in constant change: his curiosity makes him move … beyond.

Giacomo has taken part to various exhibitions in Italy, France, Germany, Northern Africa with his ceramic art works (one-of-a-kind pieces). He is the author of books about the history of ceramics too.


Before being an exceptional artist, Giacomo really is a special person – vital, human, intelligent, genial, friendly. Like it always happens, behind an outstanding man, there is an outstanding woman, Giovanna. She organizes Giacomo's life, helps him, runs their business and their house, which is always open to friends. When we flew to Sicily to meet them, we didn't expect at all the warmth and friendliness we found. We were invited over to lunch and spent our most pleasant hours in Caltagirone just chatting away with them. We wish to thank them for letting us feel part of their life.