FRANCESCO FASANO
Luxurious ceramics from Grottaglie, Puglia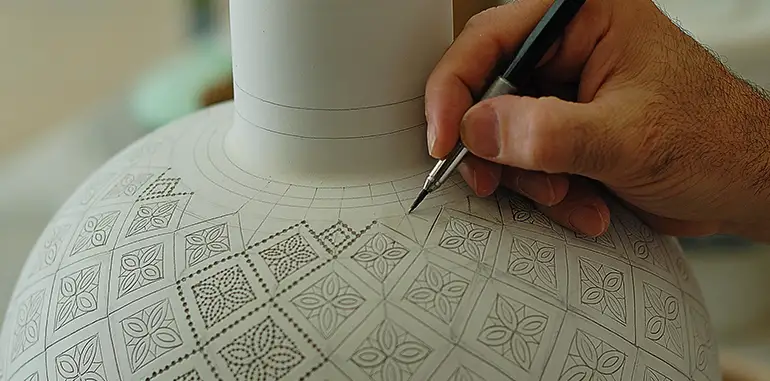 Francesco Fasano's ceramics have a jewel-like quality, each piece an elegant and highly sophisticated work of art. His signature designs, carefully scratched on the smooth surface of simple forms, have the singular beauty of rare miniatures.
We have created for you a capsule collection of Francesco Fasano's most beautiful ceramics: luxurious gems for your table and high-end home décor accents. The artist's lamps and pendants are available on request. Contact us for info.
A trail-blazing Italian ceramic artist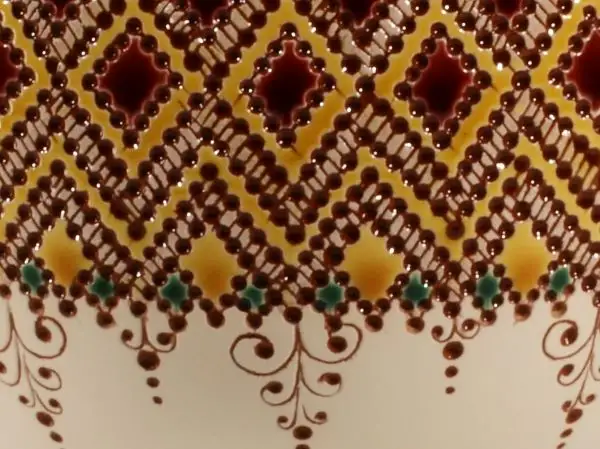 Francesco Fasano's ceramics harmoniously blend elements from cultures that have coexisted and interacted in the Southern regions of Italy, creating a rich and diverse heritage.
His elaborate motifs, utterly original and executed with meticulous attention to the tiniest detail, are in tune with contemporary aesthetics and sensibilities.
The artist belongs to a dynasty of potters who settled in Grottaglie in the 17th century. He learned the craft in his father's Cosimo ceramic studio, then enrolled at the Academy of Fine Arts in Florence. At the end of his studies, he stayed in Florence as an apprentice to local ceramic masters.
When he felt ready to set up his own studio, he moved back to Grottaglie and began experimenting with various techniques. He knew he had found his voice when he started layering sgraffito motifs with precious transparent glazes in rich colors.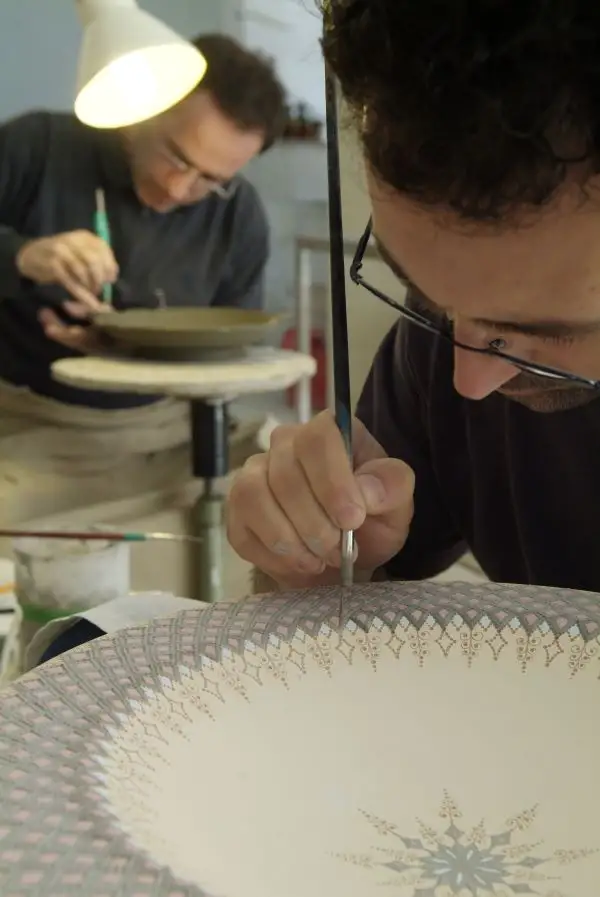 Perfecting the production process took Fasano a long time and many trials and errors. Fasano's ceramics require fastidious work. First, the motif is scratched on the surface with a thin pointed tool when the clay is hardened but not completely dry. Then, after the first firing, the artist applies the glazes. One or more additional firings are needed to achieve the desired result, depending on the number of colors and the complexity of the decoration.
Our visit to Francesco Fasano's studio in Grottaglie is one of our fondest memories.
We had already met a few Fasanos in Grottaglie, the town teeming with artists and artisans with the same family name. They are closely or distantly related, although their ceramics differ wildly.
Uncertain about what to expect, we stepped into Francesco's studio, and the time kind of stopped. The place was quiet and spacious. The artist was hunched on a desk, busy poking tiny holes in a large pendant, surrounded by unfamiliar-looking tools and lots of clay dust. He was so concentrated he barely noticed us.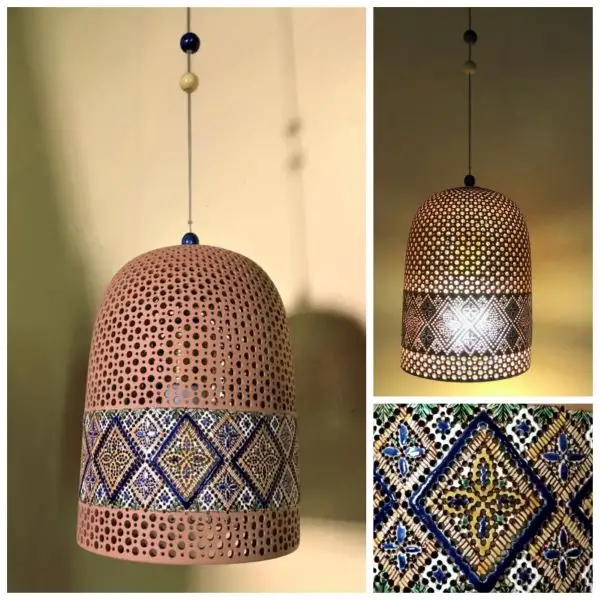 When Francesco realized he had visitors, he welcomed us warmly. With a shy, almost self-conscious smile, he asked us if we would have liked to see his work.
He led the way through a tiny door onto a spacious room, and we gaped in wonder. Sconces, lamps, and pendants created a fascinating play of shadows on the walls and ceilings. Under this atmospheric light, dinner plates, centerpieces, vases, and pumi were displayed on antique pieces of furniture.
Walking us through his work, Francesco explained that the sgraffito ceramics attracted his attention soon after graduation and slowly became his artistic language. Dots and lines are his alphabet, minuscule elements that allow him to create complex and articulate designs. His pottery echoes traditional Grottaglie designs. However, his forms are deliberately essential to act as canvasses for his sumptuous decorations and vibrant glazes.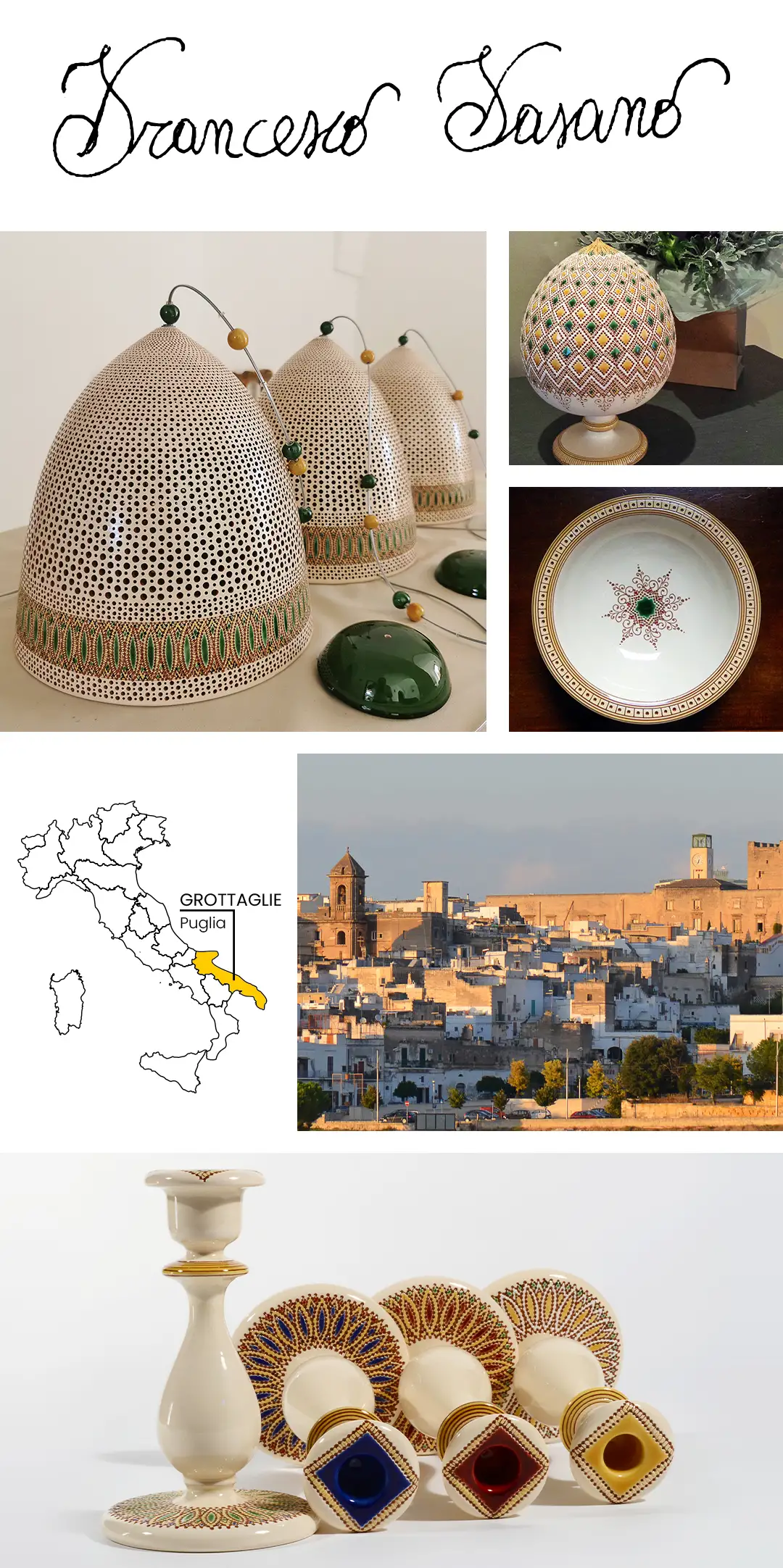 Learn more about sgraffito pottery
Sgraffito - in Italian "scratched" - is a decorating pottery technique. A layer of colored liquid clay, called engobe, Sgraffito - in Italian "scratched" - is a decorating technique. A layer of colored liquid clay, called engobe, is applied to the terracotta. When almost dry, the potter scratches the superficial layer to create a design, revealing the clay color underneath.
After the first kiln firing, the artisan applies colored glazes and fires the piece as many times as needed.
The sgraffito technique was first used in Egypt and the Middle East in the 7th century to have pottery look like precious metals. Then, around the 10th century, it crossed the Mediterranean, and … here we are.