CORTE DEI GONZAGA
The Italian art of sgraffito pottery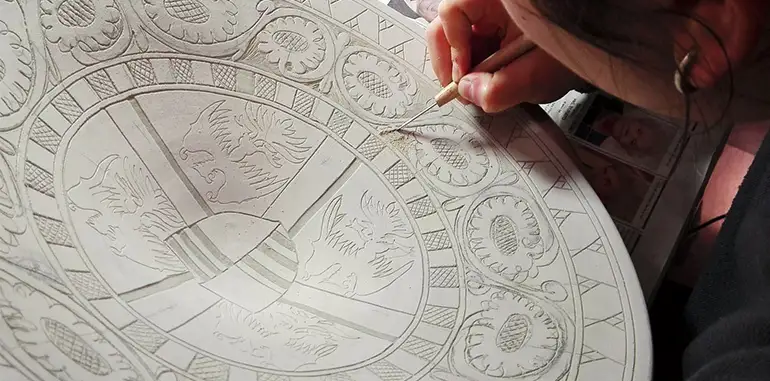 Corte dei Gonzaga's pottery preserves untouched the character of the original Renaissance pottery, which the artist patiently researched both in the forms and designs. The childbirth sets - the artist's signature pieces - are prized collectors' items and luxurious gifts.
We have carefully selected for you Corte dei Gonzaga's most iconic ceramics: centerpieces, wall clocks, wall plates and childbirth sets and colorful home décor accents. Discover the collection and the beauty of its artistry and craftsmanship.
The artist behind the revival of sgraffito ceramics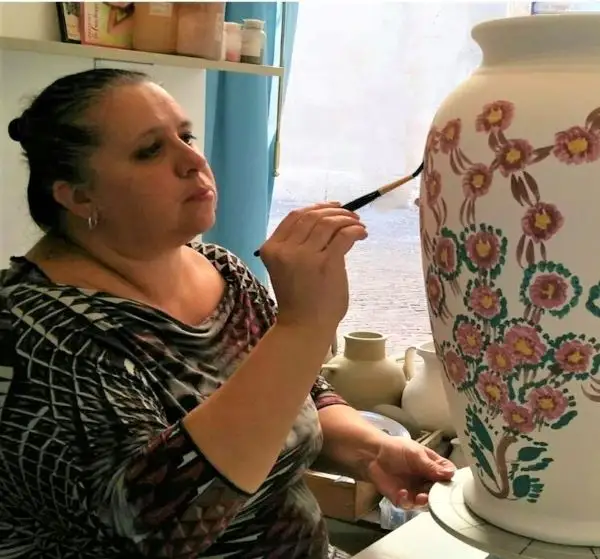 Corte dei Gonzaga is the name Irma Guidorossi has chosen for her art studio.
Irma is a talented artist who has taken upon herself the noble task of breathing new life into the art of sgraffito ceramics. This ancient technique was very popular in Mantova back in the 15th century and has been researched and revived by this amazing artist.
The decoration of the pottery is "scratched" on the first layer of glaze (engobe) before the first firing. Then the pieces are painted in colors similar to the ones used in the Renaissance when this particular pottery brought a bright and cheerful touch into every house of the region.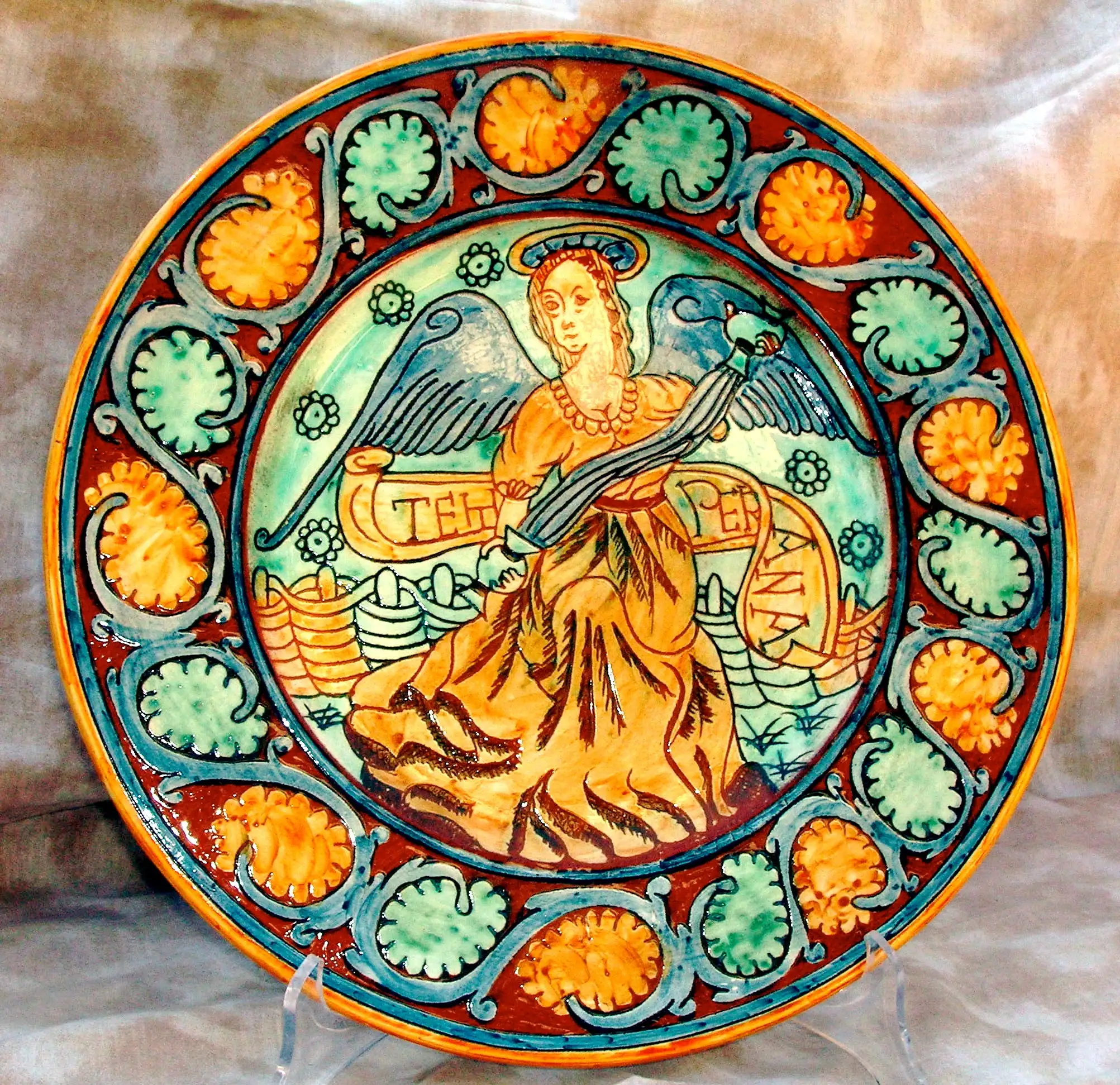 Irma Guidorossi works combine artistry and craftsmanship. Her sound knowledge of local arts and crafts makes her feel part of a centuries-old tradition and, at the same time, allows her to give free rein to her creativity. A meticulous maker, Irma works solo. All her pieces start from a lump of clay and a jug of water. She wheel-throws her forms, lets them dry, scratches and paints them. Is this the secret behind the vital beauty of her pieces? We believe so.
During the Renaissance, simple sgraffito bowls, plates, pitchers, and other functional ceramics were popular in the region of Mantua. Soon local artists started harnessing the decorative appeal of the sgraffito technique to make more sophisticated and ornamental pieces for the upper classes. However, in the 16th century, new art trends pushed local artists' to shift their focus to other techniques and sgraffito was mostly forgotten.
Today, thanks to Irma's effort and talent, we can enjoy the pleasure of sgraffito ceramic art, its own unique character and authentic feel.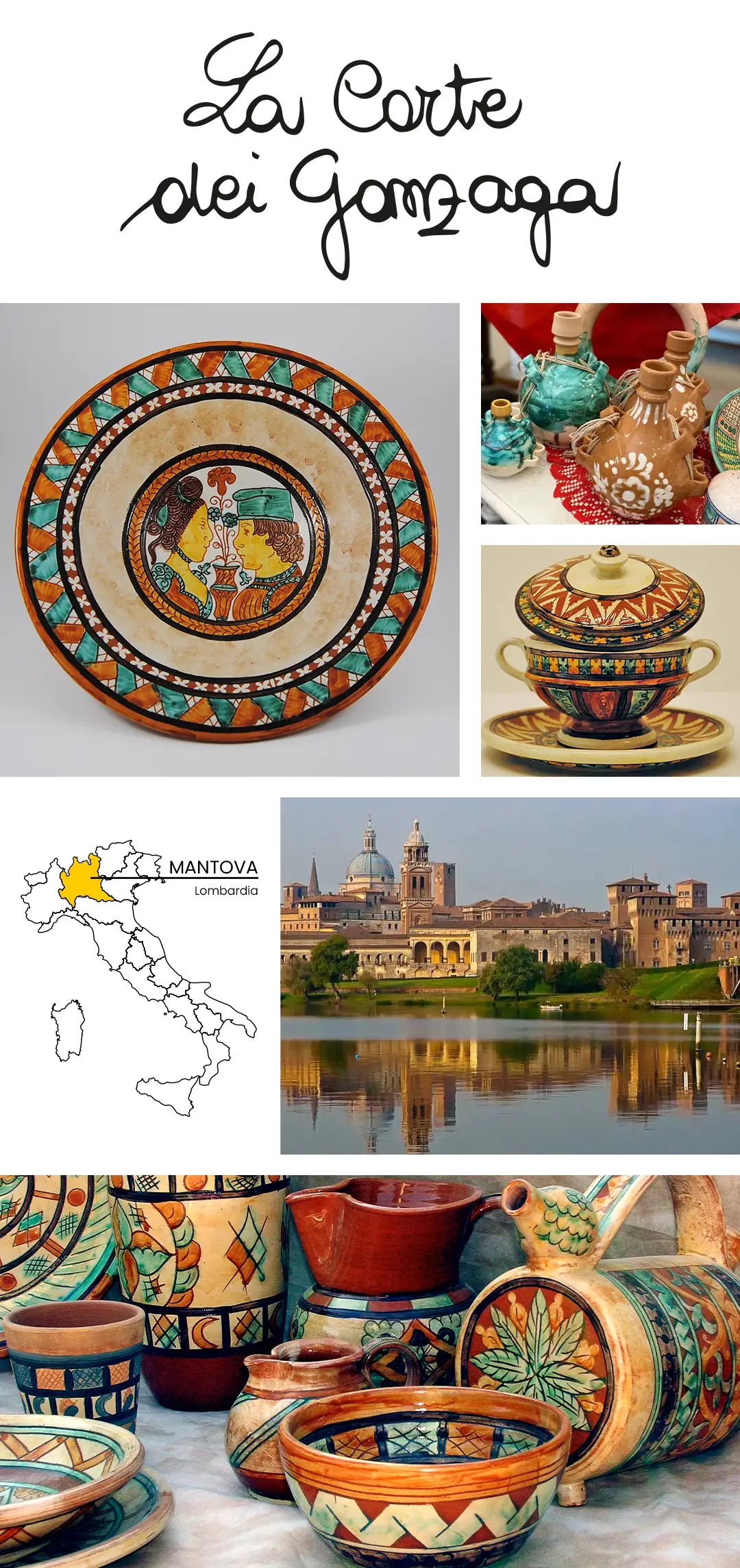 Learn more about sgraffito pottery
Sgraffito - in Italian "scratched" - is a decorating pottery technique. A layer of colored liquid clay, called engobe, Sgraffito - in Italian "scratched" - is a decorating technique. A layer of colored liquid clay, called engobe, is applied to the terracotta. When almost dry, the potter scratches the superficial layer to create a design, revealing the clay color underneath.
After the first kiln firing, the artisan applies colored glazes and fires the piece as many times as needed.
The sgraffito technique was first used in Egypt and the Middle East in the 7th century to have pottery look like precious metals. Then, around the 10th century, it crossed the Mediterranean, and … here we are.