COLTELLERIE CONSIGLI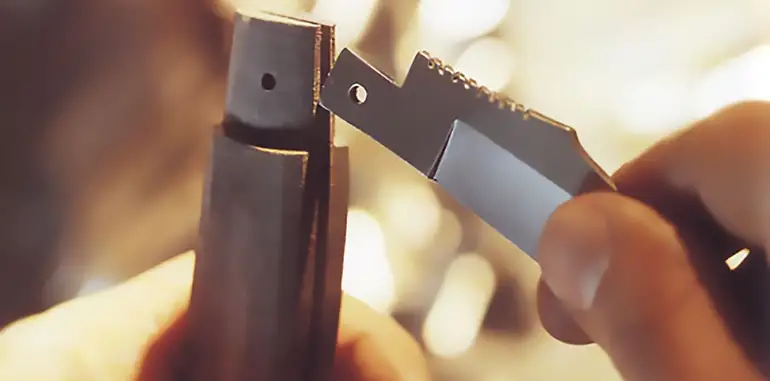 Consigli's table and kitchen knives are superior cutting tools, handmade by skilled craftsmen born and raised in Scarperia, the cradle of the Italian knife making art.
Each of the almost forty steps needed to make a good knife follows the rituals of an age-old tradition, that Consigli has decided to honor, not only because traditional methods have proven to deliver excellent results, but also because they make each knife a tangible piece of Italian craftsmanship and history.
Consigli's blades are cut from high quality stainless steel, treated to achieve a perfect balance between elasticity and durability. Their handles are handcrafted from precious natural materials, such as horn and olive wood, that are seasoned for years and closely evaluated to select the finest veins.
Synthetic handles have been introduced recently to suit the modern life style and allow for the use of the dishwasher.

The Consigli brothers opened their first workshop in the centre of Scarperia (Tuscany) more than sixty years ago. Luigi – at the time just a little over 20 – and Enrico, his slightly younger brother, had already spent several years producing knives in the company where their father had been forging metal and making knives since the first years of the century.

In the mid-1950s the Italian economy thrived, people left the rural areas to seek fortune in large cities. Machine made products, and knives among them, were rapidly replacing artisanal products. Despite the hostile scenario, the Consigli brothers decided to stay and keep doing what they had learnt to do very well: knives.

Luigi and Enrico Consigli focused their production on robust, practical knives, with finishes that were nothing short of revolutionary for the time, and on high end knives with luxurious details. If the products were innovative in the details, the production methods were scrupulously traditional. Their motto was nothing but the best, and tradition was what they held to be the best.

Their knives were at first very appreciated in Sardinia, where the demand for hard working blades was very high. Sardinia is a rough land and traditional farm breeding and agriculture have always been the key rural activities.
The reputation of Consigli knives slowly grew and expanded all over Italy, thanks to the superior quality and aesthetics of their cutting tools. Inspired by Italian regional blades and created for intensive use, Consigli's assortment was very large and suited any job.

Over time regional knives have mostly lost their functional appeal and have acquired a symbolic value, a bond with regional traditions and one's home land. The growing interest of the most demanding Customers in hand crafted kitchen knives and table knives has inspired Consigli's most recent collections.

The craftsmanship, the elegance and the refinement of their knives is truly impressive, as much as the commitment of the family to the preservation of traditional production methods. Now that Luigi Consigli has reached his well-earned retirement, Enrico is supported by his children Elena and Pietro, a great knife maker himself.

More about Consigli's steak knives and kitchen knives
Coltellerie Consigli handcrafts steak and table knives, kitchen knives, specialty knives, and pocket knives from the Italian tradition. Each knife is made by hand by skilled craftsmen who use high quality raw materials and follow age-old production methods.

Consigli's knife blades
The steel used for Consigli's blades is of the highest quality and it is treated thermally to achieve the perfect balance between elasticity and durability. The whole process, starting from the blade cutting, continuing with its tempering and quenching and ending with its sharpening and polishing, requires the experience, the skills and the manual dexterity of master cutlers who make sure that the performance of each blade is no less than perfect.

Consigli's knife handles
Natural materials are the pride of Consigli's family business, especially horn and olive wood. Considerable time and effort is spent on the selection of the horn. Rigorous criteria are applied in the seasoning and cutting of the horn and the wood, whose perfect veins are always enhanced by the cuts and the following molding and polishing processes. Stability over time and timeless beauty are guaranteed with the appropriate maintenance!

Dishwasher safe handles are also available in most kitchen and table knives collections and most Customers are just happy to go with them as they are less expensive, easy to use, great looking and do not require any special care. Consigli's synthetic handles are high quality acrylic materials: ABS, a superior resin which has distinctive hardness, gloss and toughness properties, and Methacrylate resin which is known for its durability, strength, and abrasion resistance.