CERAMICHE SOFIA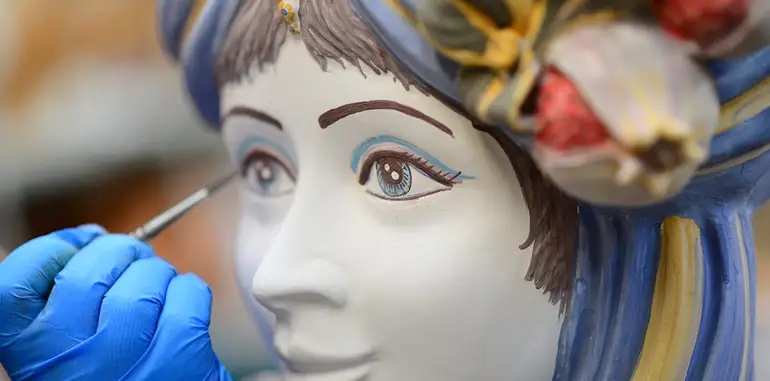 Ceramiche Sofia's Sicilian pottery is handmade in Caltagirone, the city that has contributed greatly to the fame of Italian majolica all over the world.

The head planters, the centerpieces, the vases as well as the quintessential Sicilian ceramic objects like the Lumiere, gorgeous ceramic figurines and candleholders, are completely handcrafted in Ceramiche Sofia's workshop using traditional techniques and glazes to deliver the same vivid colors, intricate patterns and elegant shapes that have been distinctive elements of Caltagirone pottery through the ages.

Ceramiche Sofia is a small family studio founded by the Intonato brothers at the turn of the century. Impassionate lovers of Caltagirone pottery, Giuseppe and Nicola have worked hard to show their talents to the world.

They started making pottery in a small garage, Nicola doing the actual production and Giuseppe traveling to sell them at Italian pottery fairs and to stores specializing in high end Italian home decor. For the two young brothers this was a second job and it had the flavor of a challenge as competition was really high. Indeed many skilled artisans run their studios in Caltagirone and most of them specialize in traditional Sicilian pottery.

Their vision, their talents and their commitment have been rewarded. Today Ceramiche Sofia's Sicilian ceramics are available in the most exclusive home décor stores in Italy and we are really proud to offer them to our International clientele.

What's so special about Ceramiche Sofia pottery then? Look at the head planters: each piece of fruit is hand modeled, as well as every other detail, and the result is a one-of-a-kind planter. The same applies to all the ceramics signed by Ceramiche Sofia.

Secondly, the decorative patterns created by Nicola are an ideal compendium of the traditional colors and designs that in different ages have been used in Caltagirone. That means a creative, unique interpretation of tradition.

Last but not least Nicola uses only traditional techniques and glazes: he does not allow himself any shortcut and the end results is absolutely stunning.